How fast has Facebook grown?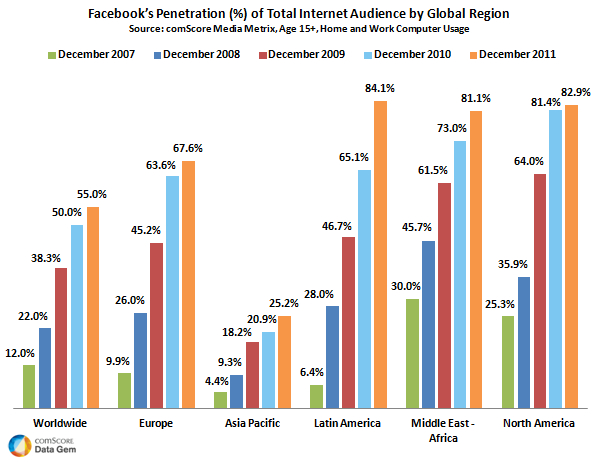 That's a question many people will ask today following Facebook's IPO filing. In March 2007, less than a year after opening to the public, the social network had 30 million users. The number is more than 800 million today. But neither number truly reveals Facebook's global impact.
Last summer, Pew Internet found that 92 percent of social network users are on Facebook -- just 17 percent on Twitter. Today, comScore released data on Facebook penetration across the globe, as measured as percentage of total Internet audience.
"Globally, Facebook reached 12 percent of the internet audience in December 2007 and as of December 2011 the social network reached over half of the internet audience, 55 percent (43 percentage point rise)", according to comScore.
Reach is greatest in Latin America (84.1 percent), followed by North America (82.9 percent). For more, see the chart above, which is fairly self explanatory.