Apple jumps from fifth to third place in global phone shipments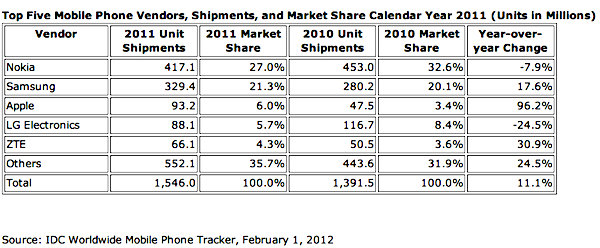 Manufacturers shipped 1.546 billion cell phones last year, up 11.1 percent from 2010. Apple posted the strongest gains for the quarter and year -- 128.4 percent and 96.2 percent, respectively. The Cupertino, Calif.-based company ended both time periods in third place. No other vendor came even close. Samsung was up nearly 21 percent for the quarter and ZTE 30.9 percent for the year. IDC compiled the data, which represents shipments into the channel, rather than sales to end users.
Apple's strong showing comes from a huge fourth-quarter finish -- 37 million handsets, all smartphones. By comparison, Nokia and Samsung sold many more feature phones, which still overwhelmingly account for the number of handsets shipped globally. "Feature phones accounted for a majority of shipments from four of the five market leaders during the quarter", Ramon Llamas, IDC senior research analyst, says. "Even though their proportion is eroding, feature phones maintain their appeal on the basis of price and ease of use".
For fourth quarter, manufacturers shipped 427.4 million handsets, up 6.1 percent year over year and ahead of IDC's 4.4 percent growth forecast. Still, the market is slowing.
"The mobile phone market exhibited unusually low growth last quarter, which shows it is not immune to weaker macroeconomic conditions worldwide", Kevin Restivo, IDC senior research analyst, says. "The introduction of high-growth products such as the iPhone 4S, which shipped in the fourth quarter, bolstered smartphone growth. Yet overall market growth fell to its lowest point since 3Q09 when the global economic recession was in full bloom".
Recession isn't the problem now, but more saturation, particularly among feature phones. Then there is the Nokia transition. The world's largest handset maker is moving from Symbian to Windows Phone, making its existing handsets somewhat less attractive to new buyers in markets where Nokia overwhelmingly is market share leader. India is one example. More broadly, feature phone shipments declined in the country, as well as China and Indonesia.
More than any other manufacturer, Nokia upscaled feature phones with smartphone-like capabilities. This effort and that from other vendors is proving effective. "To meet the challenge, feature phones are becoming more like smartphones, incorporating mobile Internet and third-party applications", Llamas says. "While this may not stem the smartphone tide, it should slow down the rate at which smartphones are selected over feature phones".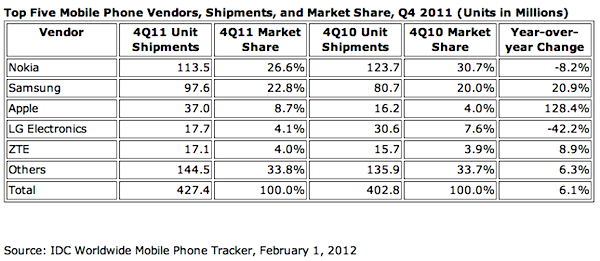 Samsung continued closing on Nokia, topping 90 million phones for the first time during any single quarter and nearly 330 million for the year. Nokia's lead trembles, but by no means is close to falling. Yet. Meanwhile, LG is in free-fall, with shipments plummeting at extraordinary pace -- 42.2 percent for the quarter and 24.5 percent for the year. LG failed to update feature phones with compelling smartphone-like features while not offering appealing higher-end handsets.
Fourth-quarter belonged to Apple as the up-and-comer. The question now: Is iPhone's momentum sustainable? That's a question another quarter of sales will answer. Apple's gains largely come from an exceptional Q4, which was iPhone 4S launch quarter. But it's also when cofounder Steve Jobs died. With positive media attention waning from Jobs' death and negative vibes increasing following a New York Times investigation of Apple's Chinese manufacturing operations, Q1 will greatly foreshadow iPhone in 2012. If iPhone rises still, surely others will fall.