Waterfox 10 -- 64-bit browsing for your Windows PC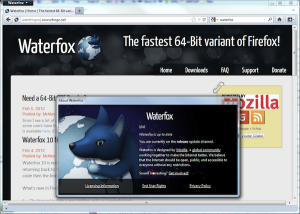 When it comes to operating systems, 64-bit is becoming increasingly popular. The ability to access additional, and ever-more-important, memory is a big draw, as is the added security and stability. But despite a general move to 64-bits for OSes, there is still relatively little 64-bit software that has been written to take advantage of them -- well, Windows. This is also true in the browser arena, but it is something that is being addressed by Waterfox 10, a 64-bit version of Firefox.
While it is true that there are already 64-bit versions of Firefox available, this is only the case in the less stable Nightly and Aurora channels, and this is not something that everyone will be comfortable using.  It is also worth noting the existence of Pale Moon, which is another Firefox-based web browser that also has a 64-bit version available. Waterfox is fully 64-bit and is based on the latest Firefox code -- this means that the two browsers are all but identical, save for the color and labeling of the Firefox/Waterfox menu button.
As the browser is based on the very latest Firefox code, you are able to take full advantage of all of the newest features. The updated navigation bar includes an intelligent forward button that is only displayed when it might be needed, and optimized code means that the program has a smaller footprint and improved performance. If you've made the move to a 64-bit version of Windows and like using Firefox, there's simply no reason not to take Waterfox for a test -- there is not even any configuration to worry about.
There are a few things to remember when using the 64-bit Waterfox browser. Firstly, you will find that some of the plugins you have become used to in Firefox will not work. You will need to download special 64-bit versions of the likes of Flash and Java, which you can find on the Waterfox downloads page. You should also note that if you already have Firefox installed, Waterfox shares the same user profile files. This means that should you decide to uninstall either browser, you should ensure that you do not opt to remove personal data or your settings will be lost.
You can find out more and download a free copy of the web browser by paying a visit to the Waterfox 10 review page.