Unwrap Windows 7 in a Box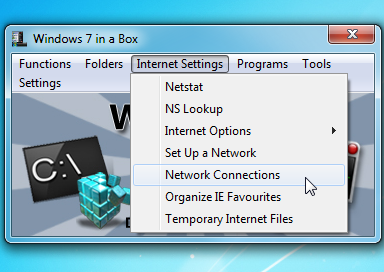 Windows 7 comes packed with useful applets, functions and features, and locating them isn't always easy. Can you remember where the Data Execution Prevention settings are to be found, for instance? If you don't know already, tracking them down can be a problem, as they're not flagged on the Start menu anywhere and entering various keywords in the Windows Search box won't return anything relevant.
But then that's where Windows 7 in a Box comes in. It's a tiny tool (268KB in size) that organizes more than 160 functions, applets, applications and folders into just six menus so there's actually a chance that you can find the option you need.
The program's presentation is, well, rather basic. There's no Control Panel-like array of attractive icons, for instance; you really do just get six entirely normal text menus -- Functions, Folders, Internet Settings, Programs, Tools, Settings -- and you then have to browse these for whatever you want.
And of course you also have to understand a fair amount about Windows 7 to get the most from the program. If you're an experienced PC user you'll know that clicking "Netstat" will show you active network connections, while "NS Lookup" will help you to uncover a website's IP address, but PC novices will probably be baffled.
Still, the program can be occasionally useful. In a click or two you can, say, launch the Forgotten Password Wizard, open the TPM Management Tool, install a program from the network and open the system CD Burning folder, amongst a host of other less than obvious tasks. So if you still can't always remember where advanced options like the Data Execution Prevention settings are (hint – right-click Computer, select Properties > Advanced System Settings > Performance Settings > Data Execution Prevention) then Windows 7 in a Box just might help to save you a little time.