Paragon Hard Disk Manager 12 Suite first look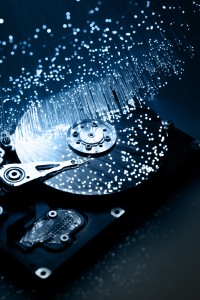 If you were after a hard disk management package, then Paragon's Hard Disk Manager 11 Suite was one of the picks of 2011, packed with functionality, and including something to handle all your partitioning, backup, cloning, defrag and system recovery needs.
We weren't entirely sure how much scope there was for improvement in the upcoming Hard Disk Manager 12 Suite, then. But we were interested to find out, and so when Paragon Software offered us an exclusive first look we eagerly installed and launched a pre-release build.
At first glance the program doesn't appear to have changed too much. It opens with the same Express Mode, a front-end menu that sensibly organizes its features into six categories ("Partitioning", "Backup and Recovery", "Copying and Migration", "Security and Optimization", "Virtualization" and "Tools"). And if you need even more power, the Advanced Interface is only a click away (although despite that "Advanced" tag, if you've used any similar Paragon package in the past couple of years then you'll find it familiar and straightforward).
Beneath the surface, though, one of the major improvements in this release is a completely new hard drive management engine. This expands the program's hard drive support to include all the latest technologies: high-capacity SSDs, Advanced Format Drives, Hybrid Hard Drives and 512e (4k sector size drives which provide 512-byte emulation). And it also supports UEFI installations of operating systems.
Paragon say that the real gain for everyone is in the program's performance, though. VSS optimizations mean that hot partitioning and hot imaging operations are now faster; the backup engine uses asynchronous read/ writes for better speeds; and the company claim the core partitioning engine is "the fastest currently available".
We'll have to wait until the full review to find out just how speedy the program really is. A quick backup test revealed Hard Disk Manager 12 Suite's performance was broadly comparable with the already fast Macrium Reflect, though, and general partitioning operations feel faster, too -- although that's just part of what the new build has to offer.
Split Partitions
One of the most significant visible additions to the program is the new Split Partition Wizard. Which not only splits one partition into two, but also moves whatever files and folders you specify into the new partition: a real time-saver.
The process is straightforward, too. Specify a partition to split. Browse an Explorer-type view to decide exactly what you'd like to move into the new partition. Then, a click or two later, Hard Disk Manager 12 Suite will get on with repartitioning the drive and moving the data for you, while you just sit back and watch.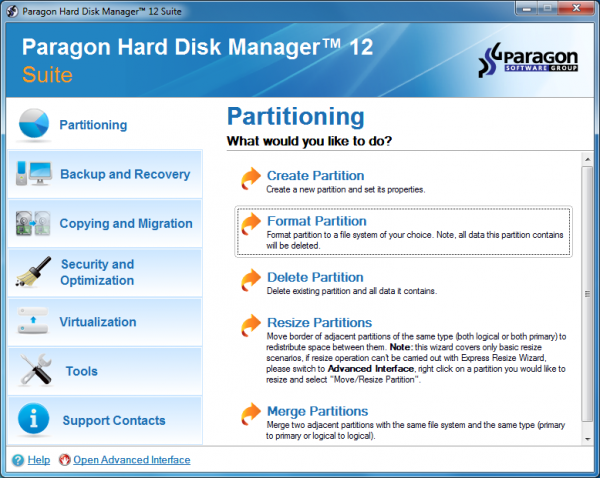 Another new feature this time around is Hard Disk Manager 12 Suite's ability to migrate a physical disk to a virtual environment. Launch the P2V (Physical to Virtual) Copy Wizard, and it'll walk you through the process of converting your chosen partition or drive to a virtual hard drive, in Oracle VirtualBox, Virtual PC or VMware Workstation/ Fusion formats.
Other improvements
One smaller tweak elsewhere sees Hard Disk Manager 12 Suite now support encrypting your backups for enhanced security.
And Paragon also report some reliability improvements, in particular the ability to resume operations on virtual volumes if they were interrupted for whatever reason. We weren't able to test this at this stage, but in theory at least it sounds like a good idea.
Paragon Hard Disk Manager 12 Suite isn't a game-changer, then: it's more about building on what's gone before than anything else.
The improvements on offer here -- in particular the improved performance, wider hardware support, the Split Partition Wizard, and enhanced virtualization support -- are well worth having, though, and so if you're in the market for this type of tool then Paragon Hard Disk Manager 12 Suite needs to be on your shortlist. A trial version will be available when the program is released towards the end of February, and if you need more information then we'll be delivering a full review shortly afterwards.
Photo Credit: Balazs Justin/Shutterstock