It doesn't get much more post-PC than this: Ubuntu for Android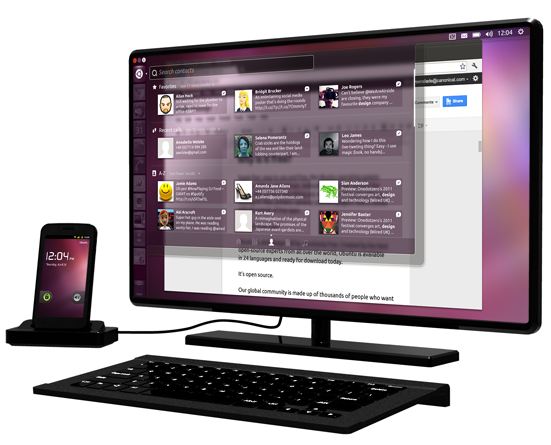 Back in October, Canonical Ltd. announced that Ubuntu would be coming to smartphones, tablets and TVs. Tuesday, Canonical announced it is not only bringing Ubuntu to phones, tablets, and televisions, but it is doing so through Android, and in a form very similar to Motorola's Webtop interface.
"Your Next Desktop Could be a Phone," Canonical says.
It's quite a statement coming from a company that makes desktop operating systems. "Forget the office PC. Just dock your corporate phone and enjoy Ubuntu. Anywhere. One address book. One set of bookmarks. One place for your text messages and email. No more typing on a tiny screen when all you want is a keyboard and a mouse. Seamless integration of your desktop and mobile worlds."
When a phone equipped with Ubuntu for Android is docked into an appropriate hardware dock with HDMI out and Keyboard, it launches the Ubuntu environment in parallel with Android. It is not virtualized, but is instead a native linux environment running off of the same Linux kernel that Android uses. It requires a dual-core device, however, so that both environments can run and share services.
Canonical bills Ubuntu for Android as a complete desktop, and it includes applications for office (Google Docs), web browsing (Chromium), email (Thunderbird), media (PiTiVi, VLC Player, Ubuntu Music Player) and messaging (Android dialer, Gwibber). Personal files stored in the phone such as contacts, calendars, photo galleries, and music can all be accessed via the Ubuntu desktop interface.
Text messages and voice calls are also routed through the desktop in a fashion more like a desktop VoIP and messaging client than a phone to allow a seamless experience.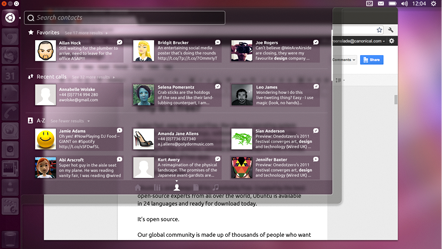 With this, Canonical looks to be taking a slightly different approach than it has with other builds of its operating system, and the company is primarily targeting OEMs and devicemakers with today's announcement. Canonical says it's a "just cause for more cores" and that it could seed "a whole new peripheral ecosystem" similar to the one associated with Motorola's Webtop.
In December, Canonical-founded nonprofit Linaro announced it had completed middleware for low-cost dual-core ARM boards that allowed for deployment of either Android Ice Cream Sandwich or Ubuntu Oneiric Ocelot, and this could play into the initial availability of Ubuntu for Android.