Google Docs for Android adds real-time collaboration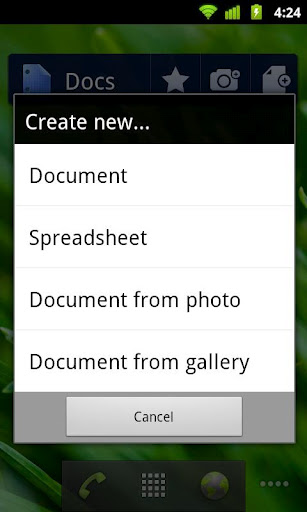 There is some truth to Microsoft's "Googlighting" video -- that somehow every Google product feels like a work unfinished. Good Example: Google Docs for Android, which today got some features that should have been there in the first place. Collaboration is one of Google Docs headline features. But that feature lacked for something on Android phones or tablets. Today's update essentially brings more parity between the desktop and mobile clients.
"We want to give everyone the chance to be productive no matter where they are, so today we're releasing a new update to the Google Docs app for Android", Vadim Gerasimov, Google software engineer explains. "We've brought the collaborative experience from Google Docs on the desktop to your Android device. You'll see updates in real time as others type on their computers, tablets and phones, and you can just tap the document to join in". Well it's about time.
"We also updated the interface to make it easier to work with your documents on the go", he continues. "For example, you can pinch to zoom and focus on a specific paragraph or see the whole document at a glance. We also added rich text formatting so you can do things like create a quick bullet list, add color to your documents, or just bold something important".
Wow. Apply bold. I'm just so excited.
"Finally, the office suite thhat should have been here since the start", comments Mark at the app's Android Market product page. "Works rather well on my Eee Pad, but it needs keyboard shortcuts -- like Ctrl+I for italics -- in order to be complete. Might aso be nice to have a page setting mode as well".
"Google Docs is close to where it should have been a year or more ago!", writes Angel de Marc, who uses Motorola XOOM.
V. Ellis Wade: "Today's update finally addressed the problem of document editing. Gonna give it a few more days, but this might mean an uninstall for Evernote".
"Better interface and functionality now, but still not enough. Am I the only one who think so?", asks Oscar, another XOOM user.
"This was the update I have been waiting for", writes Vachea, who uses Galaxy Nexus. "It looks so much more professional now. Love it, guys, keep up the good work".