ToutApp hooks up with Salesforce for real-time e-mail analytics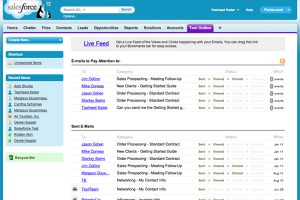 Back in November, we took a quick look at the Tout "e-mail as a service" platform for small businesses and individuals.
The startup provides a web-based email analytics platform that lets users track the status of their messages from any email provider in real time, to see whether they were viewed and clicked through, so they can be effectively tailored for optimum engagement.
When we last looked at Tout, these analytics could be tied into Highrise, Batchbook, and Capsule CRM platforms. Today, the company announced the golden goose of CRM integration: Salesforce.
ToutApp for Salesforce ties these real-time tracking and email analytics features into the popular cloud CRM suite, and includes email templating, automatic file attachments and performance reports so businesses can better manage their email comunications with clients and customers.
"ToutApp is addressing a major pain point in Salesforce: the ability to template, track and manage your day-to-day sales emails," said Tawheed Kader, CEO of ToutApp. "We believe our comprehensive yet simple-to-integrate solution between Salesforce, iOS and cloud-based app will not only save hours of emailing time but will also provide deep insights into your sales communications."
ToutApp's pricing is based on team size and volume of usage, ranging from $12 per month for 25 tracked emails per day, three Tout groups and 10 email templates, all the way to $199 per month which has unlimited groups and shared templates, and team-wide analytic tracking for up to 25 users.