Broadcom addresses the 90% that nobody's talking about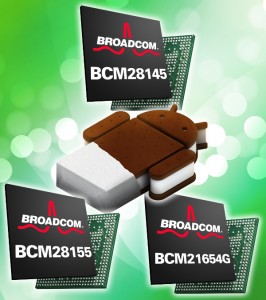 Some companies are capable of delivering big, splashy announcements at trade shows by shattering whatever industry performance standard they can, like Nokia did early this morning with its 808 PureView smartphone with an astonishing 41 megapixel image sensor.
Other companies "go big" but don't go splashy. Marvell, for example, is targeting the biggest single mobile market on the planet with its new modems, and Microsoft is targeting the big mainstream consumer market with a low-power optimized version of Windows Phone.
Semiconductor company Broadcom, it seems, is also taking the big but not splashy route, and today unveiled a family of Android 4.0 (Ice Cream Sandwich)-optimized systems-on-a-chip for the middle and lower price smartphone markets.
The main entrants are the BCM21654g, which has a 1GHz ARM A9 processor, 720p media/video encoding, and a 7.2Mbps dual-SIM HSPA modem, aimed for smartphones at or below the $150 retail price; and the BCM28145 and BCM28155, which have dual-core ARM Cortex A9 processors at speeds up to 1.3 GHz, 720p video capture and either an HSPA 7.2 Mbps or 21Mbps dual-SIM HSPA modem. These are slightly higher-end, but are made for smartphones at or below approximately $300 retail.
"When we started developing these products and platforms, we could see the growth in the mainstream, in what would be the affordable category. People wanted to connect to the Internet and have the smartphone experience, but just couldn't afford a device which today has about $600-$700 worth of product in it," Martyn Humphries, vice president and general manager of the IP Communications division of Broadcom told BetaNews. "And this is clearly no small group. We're talking 3.8 billion."
"There will be a lot of people beating their chests [this] week about having the fastest processors on the planet...we won't be doing that," Humphries continued. "Most of the hype this week will surround devices that will address five to ten percent of the market, and almost nobody will talk about this 90 percent of the market, which are these very affordable platforms."