Save us from the stylus! Samsung unveils Galaxy Note 10.1!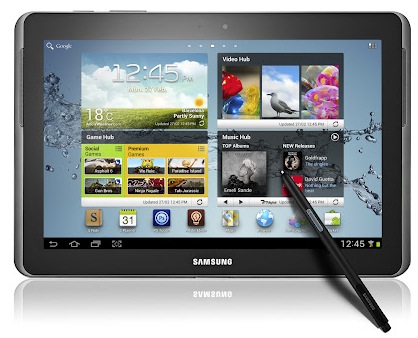 I am seriously having Windows Tablet PC déjà vu. Today, at Mobile World Congress, Samsung unveiled Galaxy Note 10.1 -- a tablet with stylus (okay S Pen, as the South Korean electronics giant calls it). So much for capacitive touchscreen tablets -- really, Apple's emphasis on fingers -- liberating us from the stylus. There are reasons why Tablet PC failed, while iPad succeeded. The pen isn't mightier than the finger.
Galaxy Note 10.1 is essentially a larger version of Galaxy Note, which Samsung is promoting heavily here in the United States. Difference: No telephony on the larger Note, which display is 10.1 inches. AT&T sells the 5.3-inch Note for $299.99, although Amazon has it for half as much. I know three people who bought the smaller Note. Two returned theirs, and the other says he will this week. Reason: The pen, which is supposed to be the device's main benefit. Complaints range from accuracy problems to less need for the stylus than expected.
I'm looking at the 10.1-inch model and wondering how it can be any more appealing than its sibling, particularly with last-year's hardware. Like Galaxy Tab 2, which Samsung announced yesterday at MWC, the new Note comes with dual-core processor. Samsung, what have you got against quad-core?
Key features: 10.1-inch display with 1280 x 800 resolution; 1.4 GHz dual-core processor; 3-megapixel rear-facing camera with LED flash; 2MP front-facing camera; 16GB, 32GB or 64GB storage; microSD slot (storage expandable up to 32GB); HSPA+ (21Mbps) 850/900/1900/2100, EDGE/GPRS 850/900/1800/1900; WiFi; 7000 mAH battery; S Pen; TouchWiz UI; and Android 4 (Ice Cream Sandwich). The tablet measures 256.7 x 175.3 x 8.9 mm and weighs 583 grams.
Samsung didn't immediately announce availability or specific SKUs. Some models won't have HSPA+ radios, for example.
Pen Pushers
JK Shin, president of Samsung's IT & Mobile Communications division, says the larger tablet "takes productivity on a Note to a whole new level. With a larger, fully utilizable screen and superior performance, it combines the intuitiveness of handwriting with all the versatility of digital content to let users be more productive across all of life's demanding tasks -- whether working, learning, or simply creating their own stories".
I'm not convinced the pen is mightier than the finger. Human beings are tool users who experience and manipulate the world through five senses. Consider how people interact with items for sale in retail shops. First they look, and then they touch. People examine objects they desire as much with their hands as their eyes.
Hands and fingers are important because they are active -- they're how people tactilely manipulate the world around them. Touch is hugely important, and makes tablets more personal, the experience more intimate. The stylus increases complexity, creates distance, even when considering people write -- or do they? I almost never use an ink pen and paper. For many people, if I'm even remotely indicative, the stylus is even less familiar than keyboard and touchpad.
The finger and touch are more natural, because they extend you. Good user interfaces build on the familiar -- and there is nothing more familiar than me, myself and I.
That said, there is an argument for a stylus when looking at markets like China and the complexity of communicating complex language scripts. Voice is more natural than the pen. Speech-to-text would be better user interface than stylus, then.
Granted, there are artists, who draw with pens and perhaps Galaxy Note 10.1 is for them. Samsung includes Adobe Photoshop Touch for Android, catering to that market. But Samsung isn't going after artists with either Note but the mass-market. I don't see how a pen-based tablet is for the masses. These are niche devices, at best, and the stylus more liability than asset.
"We are demonstrating Samsung's commitment to extend the mobile category and are working with key partners like Adobe to provide extraordinary experiences for users that enable them to be more productive, express themselves creatively and add a touch of fulfillment to their lives", Shin says.
Oh yeah? If people felt so much "fulfillment" from the stylus, we'd all be using Windows Tablet PCs today rather than iPads or Androids.
Is this tablet for you? Have you tried out the smaller Note (and how do you like it)? Please answer in comments.