Apple preps next iPad for March 7 event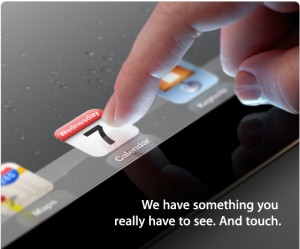 Apple sent out event invites to selected members of the press Tuesday for a March 7 event to be held at Yerba ay Buena Center for the Arts in San Francisco, Calif. at 10 am PT, reportedly to launch the iPad 3. The location is significant because it is where Apple has unveiled the last two iPad models.
The invitation reads "We have something you really have to see. And touch". The reference could indicate that the Retina Display that has long been rumored to be part of the iPad 3 is coming. The resolution is thought to come in at 2,048 by 1,536 pixels, twice the 1,024 by 768 screen found on the iPad 2.
Financial news network CNBC suggested in a tweet that the event would take place in New York, sent out moments before Apple's official invites. In the moments following Apple's official announcement, reporter Jon Fortt clarified on air that New York will be a "key location" for the iPad announcement, but failed to disclose any further details.
One aspect of CNBC's scoop that has not been debunked yet is its claims of the iPad 3 supporting 4G LTE networks. That has been a continuous claim of those purporting to have details of the next generation device and appears to be a reality.
In addition, AppleInsider reports that the iPad 3 may already be shipping to the United States, indicating a near immediate availability of the device. Close Apple partner Best Buy cut the price of all iPad 2 models by $50. Other iPad 2 retailers have also begun cutting prices in anticipation of a new model.