US iPhone ownership catches up to Android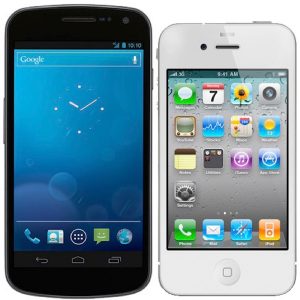 That's one of the startling data points from a report that Pew Internet released today. The non-profit "fact tank" asked American adults what kind of smartphone they own. Twenty percent responded "Android device", up from 15 percent in May 2011. iPhone: 19 percent, up from 10 percent during the same time period. Pew concluded the newer survey in February.
The percentage of people saying they own iPhone nearly doubled between surveys, which is stunning growth compared to Android. Meanwhile, BlackBerry ownership fell to 6 percent from 10 percent. Those respondents describing themselves as Windows Phone owners was unchanged, at 2 percent.
The surge in iPhone owners surely reflects Apple's calendar fourth quarter success in smartphone sales -- 37 million globally. AT&T, Sprint and Verizon sell iPhone in the United States, collectively activating 13.7 million of the handsets during Q4.
More broadly, 53 percent of American adult cellular handset owners have smartphones. "Since 88 percent of US adults are now cell phone owners, that means that a total of 46 percent of all American adults are smartphone users", according to Pew. That 46 percent is an 11 point increase from May 2011.
"Two in five adults (41 percent) own a cell phone that is not a smartphone, meaning that smartphone owners are now more prevalent within the overall population than owners of more basic mobile phones".
Survey questions about devices like smartphones often have a higher margin of error because people often don't know what they have. For example, someone might know they have a Samsung phone but not be sure whether it runs Android, Bada or Windows Phone.
However, aggressive marketing raises awareness, and cell phones are heavily advertised across mediums and retail channels. As such, Americans are surer about their handsets. For example, the proportion of cell phone owners unsure what device they owned fell to just 4 percent in February from 13 percent in May. Pew put the margin of error for data pertaining to cell phone owners at 3 percent.
Pew conducted its survey between mid-January and mid-February. The report, authored by Aaron Smith, senior research specialist, is available now.