Should the government be able to shut down mobile networks in an emergency?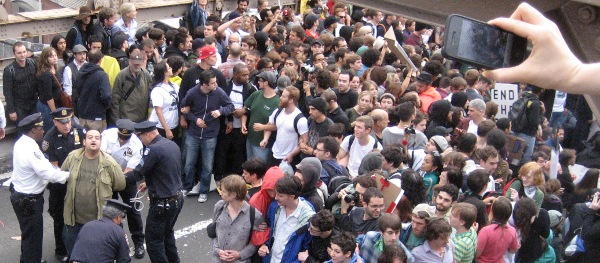 That is the big question the Federal Communications Commission (FCC) is asking right now in its latest call for public comment.
If there was an emergency situation, such as a mobile-triggered explosive device, or phone-organized "violent flash mob," could and should authorities be allowed to bring down all of the mobile communications networks?
Last summer, San Francisco's BART mass transit system admitted to shutting down cellular service in its underground rail stations to prevent protesters from interrupting trains. This situation is cited several times in the FCC's call for comment this week.
"Service interruption could be accomplished in many different ways. For the purposes of this Public Notice, we are focused on situations where one or more wireless carriers, or their authorized agents, interrupt their own services in an area for a limited time period at the request of a government actor, or have their services interrupted by a government actor that exercises lawful control over network facilities," the document says. "We do not invite comment on practices expressly prohibited by statute or regulation, such as signal jamming."
The Commission is looking for information and comment in six main areas under this topic: Past practices and precedents, bases for interrupting service, risks in interrupting service, scope of interruption, authority to interrupt service, and the legal constraints of interrupting wireless services.
Under each of these main areas, there are dozens of questions for which the FCC wants sound answers: In what kinds of situations would a government authority potentially seek intentionally to interrupt wireless service? How frequently do these situations arise? For how long would service be interrupted in these situations? What obligations do or should wireless carriers have to comply with a request by a government official to interrupt wireless service?
"Our democracy, our society, and our safety all require communications networks that are available and open. Any interruption of wireless services raises serious legal and policy issues, and must meet a very high bar," FCC Chairman Julius Genachowski said in a statement on Friday. "The FCC, as the agency with oversight of our communications networks, is committed to preserving their availability and openness, and to harnessing communications technologies to protect the public."
Comments on any of these topics may be filed electronically using the FCC's Electronic Comment Filing System.
Photo Credit: Daryl Lang / Shutterstock.com