I am breaking my own rule by writing about this iPhone charger, that's how cool it is

As a tech writer, there are two things that I avoid like the plague: iPhone cases and iPhone cases. I say this as two separate instances because there are so freaking many of the things that avoiding them is a full-time job. Marketers indiscriminately shower me with information about various cases even though I have never displayed an interest in them, nor do I even own an iPhone.
In 2011, my BetaNews email address got 209 different email pitches about iPhone cases. Seriously…they were all different ones (Thanks to Tout for the inbox analysis, by the way.)
Today I'm breaking that rule and writing about a iPhone case Kickstarter project that caught my attention simply because of its ingenious design.
The JuiceTank by Detached, which debuted today, integrates a U.S. standard wall charger into the iPhone case, so users can charge their phone anywhere they go, without the need for a cord.
"I had a bad habit of leaving my charger at home and getting stuck with a dead cellphone," Detached founder Jesse Pliner said in a statement on Thursday. "The JuiceTank is the perfect answer to this common problem, remarkable in its simplicity. When your case is your charger, you have everything you need to keep your iPhone looking great and fully charged at all times."
The case is set to debut at a retail price of $70 USD, but Kickstarter funders can get one for $55, and it is expected to ship some time in Summer 2012.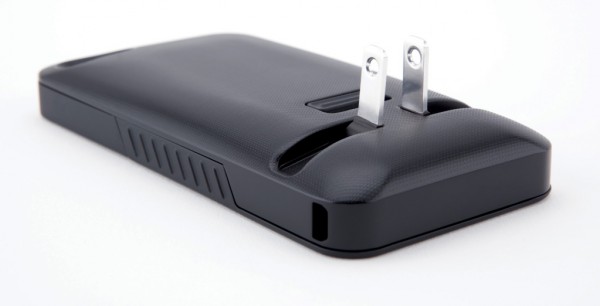 Don't expect me to make a habit of talking about iPhone cases, either. This item is exceptionally utilitarian, and I heartily approve of that ethos.