Chrome 19 beta syncs tabs everywhere -- get it now!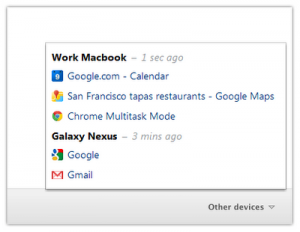 Most of us now use at least two devices to connect to the Internet and while this freedom of connectivity is great in many respects, there are also problems associated with it. One of the most infuriating aspects of moving from browsing the web on one computer to using another device is that you will lose the web sites you were looking at. This is something that is addressed in the latest beta version of Google Chrome 19, which features the synchronization of tabs between devices. The feature extends to other devices a capability available with Chrome for Android Beta.
If you are working on your computer at work and then head home, there is no longer any need to send yourself an email with links to the websites you have been looking at during the day. Instead, assuming that you have the beta version of Google web browser installed on both machines and you are signed into your account, when you get home you need look no further than the 'Other devices' menu on the new tab page.
In this menu you will find a list of all of the tabs you have opened on other machines and you can load them up with just a further click. As an added bonus, the browsing history for individual links is preserved so you can still track back through your browsing trail without the need to worry about which computer you are using.
As well as this handy tab synchronization, the latest beta version also features the usual range of tweaks and bug fixes. Problems with NVIDIA GPUs with 3D graphics have been fixed as have issues with incognito windows. It's a shame that it's not possible to easily install the beta version of the browser alongside an existing installation of the stable release version, but it does seem remarkably stable in its own right.
The web browser is available for Windows, Mac and Linux, and you can find out more by paying a visit to the Google Chrome 19 Beta review page.