Geekbench 2.3.0 supports Ivy Bridge, dumps Power Mac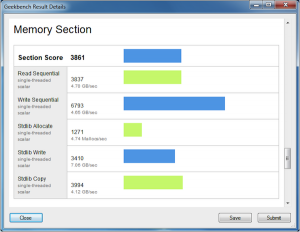 For anyone that is interested benchmarking the performance of their computer, be it a Mac, PC, Linux machine or a mobile device, Geekbench is a simple, low-cost tool that provides you with all of the tools you need. Benchmarking tools are often used by fans of overclocking and tweaking to see what difference can be made to performance, but they can also be helpful for revealing helpful information about the hardware in mobile phones and tablets.
If you are interested in benchmarking performance, it is likely that you are running recent hardware. As such, it is little surprise to find that the latest version of Geekbench drops support for PowerPC Macs. The fact that this is hardware that is no longer supported by Apple and the ever dwindling numbers of remaining users mean that this was really inevitability, and the day has now finally come.
Obviously there is nothing to stop PowerMac users from sticking with an older version of the app, but as of now development in this area has now ceased. But the app continues to grow and develop in other areas. In addition to new support for Ivy Bridge processors, there is also better support for 2009 MacBook Pros. Other changes include the ability to use a Pro license for a portable version of the app.
It is also worth noting that there are iOS and Android versions of the app available. For iOS users the app is not really able to reveal a great deal of information, but the Android version is somewhat more useful. In addition to revealing basic information about the hardware and OS you are working with, your mobile device can also be assigned an overall rating by testing the performance of memory, floating point operations and much more.
You can find out more by paying a visit to the Geekbench 2.3.0 review page. Separate versions are available for Android devices and for the iPad/iPhone.