Spotify for Android Ice Cream Sandwich launches in beta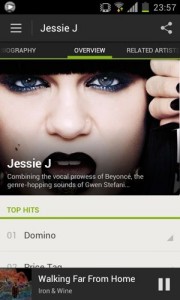 Popular music streaming service Spotify has rolled out a beta of its first Android app optimized for devices running Ice Cream Sandwich.
The most current version of the app, available in Google Play, was built for Android Gingerbread, and no version was released for Honeycomb. Google Play says the Gingerbread version is compatible with Ice Cream Sandwich devices, but this is not strictly true, and installing the Gingerbread version didn't guarantee local playback or playlisting, so this beta is a ramp-up to a significant release for Spotify.
That being said, this beta is not yet available in Google Play and must be downloaded directly from Spotify. They're looking for your feedback, so you know what to do.
This version has a completely revised user interface that follows the ICS design ethic, with a navigation button in the upper left hand corner that opens the menu of different views. Navigation speed has been significantly tweaked and poking around the app is swift and responsive. An impressive display of how quickly Spotify responds can be seen if you happen to be playing a track on your desktop app, and you click play on your smartphone app. The desktop's playback is instantly paused when the music starts on your phone, which is also instant.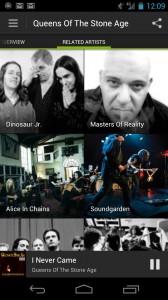 The ability to browse "related artists" and other user profiles and playlists has been added, both of which were previously missing. A few more features have not yet been added, but are supposed to be on the way before the app launches in Google Play, including folders and Last.fm scrobbling.