Firefox 13 arrives with major new features -- get it NOW!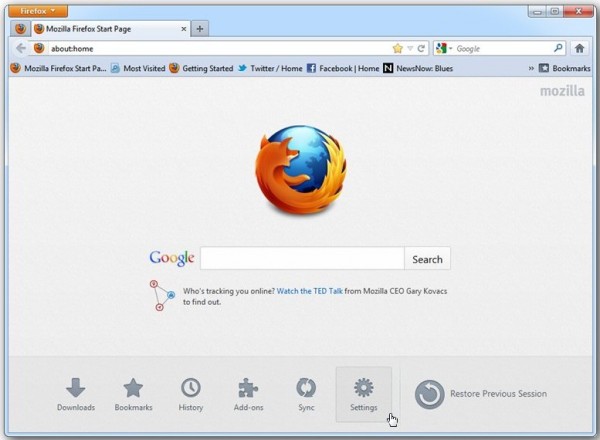 Ahead of its official release, Mozilla has uploaded Firefox 13 FINAL to its servers, the latest version of its open-source, cross-platform web browser. Version 13 will be officially unveiled on June 5, when it should also become available as an update to existing Firefox users.
Version 13 is a landmark release, containing a number of major new features: redesigned home and new tab pages, support for "tabs on demand" loading of pages on restoring the previous browsing session to speed up startup, and a new Reset Firefox feature for attempting to fix major problems with a single click.
The most visible new feature in Firefox 13 is its new Home page, one of the many interface changes implemented by the Firefox UX development team. This new Home page -- accessible by typing about:home into the Address bar -- provides users with the ability to create their own customised home page, with shortcuts to bookmarks, downloads, add-ons, history, sync, settings and an option for restoring the previous session. Users are presented with the option of using this home page when setting up Firefox 13 for the first time.
The home page, which can also be pinned as an app tab for easy access, will continue to evolve over time, with Mozilla planning to use it as a portal to the upcoming Apps Market, for example.
There's also a redesigned New Tab page that's similar to that found in Google Chrome and Opera web browsers. It basically provides thumbnails of frequently visited sites, which appear blank during the first few visits, but will, over time, populate with thumbnail images of the site itself. Sites can be permanently pinned or removed from this list, while users who prefer the old approach can toggle back to the blank tab page using the Show/Hide button in the top right-hand corner of the screen.
Other notable improvements in Firefox 13 include a new "Tabs on demand" feature that speeds up browser startup by only loading tabs stored from the previous session when the user clicks them. At the present time, the accompanying "automatic session restore" feature hasn't landed in Firefox 13, so the user needs to switch this on by default using the General tab of the Options dialog box.
A feature that wasn't previously visible in pre-release builds is a new Reset Firefox feature, accessible by typing about:support into the Address bar. This option allows users to attempt to fix major problems with a single click: the tool basically creates a new profile and migrates across key data (bookmarks, history, passwords and so on) from the corrupt profile to this new one.
Other changes are beneath the hood – smooth scrolling and SPDY support are both now enabled by default, while further improvements to the Cycle Collector – a tool for helping optimize Firefox's memory performance -- have also landed.
Firefox 13 FINAL is a free, open-source download for Windows, Mac and Linux. Look out for updated versions of related browsers such as Waterfox for 64-bit Windows users in due course. We'll also report back on the latest developments coming to Firefox when the Beta, Aurora and Nightly builds are updated later this week.