Zune -- It's really dead this time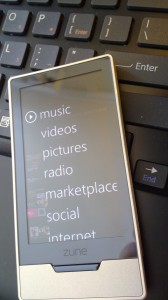 Stop me if you heard this one before: the Zune is dead. Buried within Microsoft's slate of announcements at E3 was a change in branding, which effectively kills off the Zune altogether. A new music service is in the cards, called Xbox Music, which will be its replacement.
The Xbox branding is more appropriate considering the service will be available across Microsoft's disparate platforms -- Windows 8 computers and devices, Windows Phones, and the Xbox 360. Removing the Zune branding also gives the service a fresh start, free from the negative connotations the Zune name may have among many consumers.
Microsoft is all but confirming this, saying it decided on the Xbox brand name as it is better known. Zune players were discontinued last year, although the brand lived on in the form of an entertainment service for Windows-powered devices.
Now it appears Microsoft wants to scrub its hands of Zune altogether and start fresh. To be honest, it's probably not a bad idea.
Editor: Zune was dead long ago, Microsoft now admits the body is buried.