Apple dumps Google Maps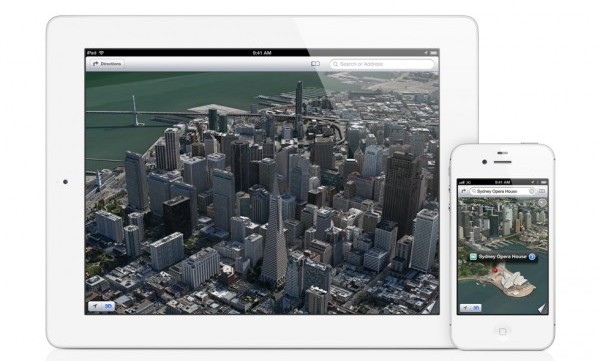 The marriage is over. As widely rumored, Apple debuted its own mapping service alongside the unveiling of iOS 6 at the Worldwide Developers Conference Monday. The move had been expected for awhile now, considering the Cupertino, Calif. company's recent acquisitions.
Apple's Maps include turn-by-turn navigation with smooth vector-based graphics. "Flyover mode" is the company's answer to Google Earth and Street View: it includes photo-realistic views of major cities, even allowing you to fly around and see all sides of a particular building. Traffic including crowd-sourced reports are built in, which can be used to change directions on the fly.
The moves are a direct challenge to nearly everything about Google's mapping service, and made possible through Apple's various acquisitions. In 2009, it acquired Placebase which gave the company the maps it needed. This was followed by the purchase of Poly9 in 2010, which gave Apple access to high-resolution imagery. Finally, the purchase of C3 Technologies last October rounded out Apple's mapping endeavor with its 3D rendering technologies.
But Apple's plans to oust Google from maps may go even further back than that. Some reports indicate that Apple has planned to take over maps almost the whole time the iOS platform has existed. This contradicts some analysis out there saying Android was the cause: the massive growth only accelerated the planned divorce. Given Maps was the only native application that relied on technologies that Apple did not own, this was bound to happen.
Also with the increasingly strained relationship between the two companies, it looked likely. Eric Schmidt left the board in 2009, later saying "he just couldn't stand it anymore", and Jobs even said in the statement announcing his resignation that Google's business activities and Apple's planned ones created a "conflict of interest".
Google did not have any immediate comment on the move, but it's clear that its mapping service is about to see a significant decrease in traffic as a result.