Verizon Share Everything plan shares very little savings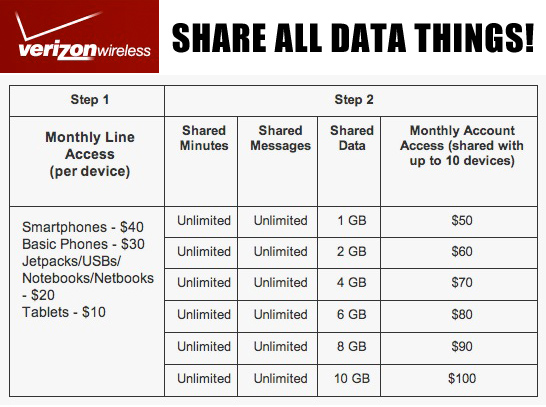 I find it humorous to read a press release from a large telecom in regards to cellular service plans. They use powers of the telecom heavens to make their calling and data plans "easier" for simple, dumb mortals. Carriers play it up like they have come down from Olympus to give us fire. All so we can build temples to them faster.
Of the top-three of the pantheon of cellphone carriers, Verizon is the biggest of them all -- the Zeus of wireless, who can screw anyone in any form. It's pretty simple for them. They have the biggest lightning bolts if you didn't know. It's clearly in their commercials for the "lightening" fast 4G LTE data speeds. So when they have something they think is "game changing" they send their fastest messenger.
The Hermes for this plan change is Tami Erwin, vice president and chief marketing officer of Verizon Wiresless:
"Customers asked, and today Verizon Wireless delivered an industry first" ... "Share Everything Plans are the new standard for wireless service. They are simple; customers no longer have to think about their voice and message plans, because both are unlimited. Share Everything Plans are convenient; customers purchase one data plan and they share it with up to 10 mobile devices. And, they are worry-free; customers can connect their 3G or 4G devices wherever and whenever they want on America's most reliable network."
Isn't that nice? Silly mortals no longer have to worry about voice and message plans. That means the cost of service is all one simple clean fee with the data rates right? WRONG! What once was the voice and phone service is now a "Monthly Line Access" fee. This line access fee is $10 per month for tablet devices, $20 per month for USB modems, hotspots, and netbooks; and $30 per month for basic dumb feature phones. Lastly it's $40 a month for a smartphone. This is on top of the $50 to $100 dollar per month fee for the shared data that you have from 1GB to 10GB to share.
To clarify this in a simple form. For $100 dollars a month you can have unlimited voice and messaging with only 2GB of data on a smartphone. For $90 dollars share 2GB of data on three tablets. Or for one laptop, one tablet, and one laptop / modem share 2GB data for $130. And this 2GB is over both LTE 4G and EDVO. To everyone on Verizon who will lose your unlimited grandfathered plans since your telecom god has forsaken you, I'm sorry for your loss. The temple of Sprint says hello though. That's where I worship.