Will you buy Apple's 15.4-inch MacBook Pro with Retina Display?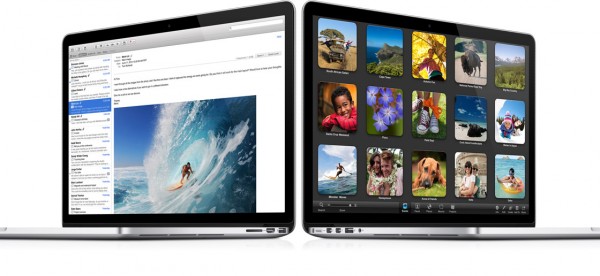 I ask because one of my colleagues already has ordered one (shipping time is a couple weeks), and I got into an interesting Google+ debate about display technologies earlier today.
Apple announced the new laptop yesterday during its Worldwide Developer conference. The new MBP is thinner and lighter, which are nice-to-have features but nothing remarkable. The 2880 x 1800-resolution, IPS screen is really what sets the portable apart from other notebooks, whether Macs or Windows PCs. Apple has raised the standard of art, but the technology isn't gamechanging, as some bloggers or reporters claim. Apple is a laggard with respect to high-res displays, which on Windows PCs have outclassed Macs for years.
Mac Fan Club
You may have noticed that Macs are quite popular among tech writers. There are lots of reasons for this. Among them: More and more journalism schools require Macs; Apple has long appealed to creative types; and iLife is the jack-of-all tools for anyone producing media content. Many Mac-loving writers who don't use Windows also don't know what they're missing out on. That combined with Apple passions can lead them to mistake something old for something new.
For example, writing for Wired, Nathan Olivarez-Giles asserts: "MacBook Pro With Retina Display gives Apple 1-Year lead on Ultrabooks". That might be true, but where was the story years ago about, say, Lenovo ThinkPad or Sony VAIO, having a year (and it turned out to be several) lead over MacBook Pro?
Perhaps MacBook Pro is a game-changer for my Mac-obsessed peers who suffered with lower-screen res for years -- well, compared to their Windows counterparts who have long enjoyed much better. Apple isn't leading the pack but catching up from behind. What's new for the people using Macs and writing about them isn't for the broader PC market.
Laggard plays Catchup
I've criticized Apple's lagging behind competitors' displays for more than four years. I noticed the difference because high resolution has long been a priority when buying Macs or Windows PCs and where the Wintel camp has long excelled. In a long 2009 missive, for example, I explained why I chose Windows 7 on a Sony VAIO Z720 over Snow Leopard on 13.3-inch MacBook Pro. High among my reasons: "While the computers are fairly close in terms of base hardware, I find the VAIO's higher screen resolution to be a highly appealing feature, and the major reason for my replacing the MacBook rather than installing Windows 7 via Boot Camp. The VAIO had stunning 1600 x 900 compared to the Mac's 1280 x 800".
Apple started upping the resolution on portables in 2010. For example, 11.1-inch and 13.3-inch MacBook Airs ushered in 1366 x 768 and 1440 x 900 resolutions, respectively, long after Wintel competitors got there. New models announced yesterday keep the same resolution.
The current VAIO Z Series model, by comparison, offers 1920 x 1080 resolution on a 13.1-inch display; that exceeds the MacBook Air, which is same size class. The VAIO costs $100 more than the high-end 13.3-inch Air, with twice the RAM (8GB) but half the storage (128GB). The point: In the market sweet-spot, Windows laptops still outclass Macs. Where Apple raises the bar above Wintel machines is high-end 15-inch models.
Apple offers four standard 15.4-inch MacBook Pros -- two of which with 1440 x 900 panels; like the predecessors, they can be upgraded at extra cost to 1680 x 1050. Hell, the 15.4-inch ThinkPad T60p I used more than 5 years ago had a panel with that resolution. To get 1440 x 900, you pay Apple $1,799. Retina Display starts at $2,199.
Sound Advice
Some of my peers do put MacBook Pro with Retina Display in proper perspective, and they're worth calling out. At AnandTech, Anand Shimpi offers a superb analysis of the new MacBook Pro, focusing on the improved display technology. This is a must-read analysis for anyone considering buying the new MacBook Pro mainly for its display.
Peter Pachal writes for Mashable:
With this machine, Apple is sending a loud message to the world: We aren't content to just sell computers -- we want to define what people want in them. While Apple would probably say that attitude has always been in its DNA, it's really only been delivering on it since it unveiled the first MacBook Air. Before that, Apple machines -- the hardware -- were certainly capable machines, but their standout features typically had more to do with design (think the original iMac) than usability and performance.
Peter's right. Mac laptops have trailed Windows PC hardware for years.
At Chip Chick, Chance Kinney asks and answers: "The New MacBook Pro with Retina Display -- Hot or Not?" Regarding the display, "as far as clarity and pixel density goes, no other laptop on the market is matching that, or even coming close". Kinney continues:
Next up is the graphics processor, and this is where we need to put the brakes on the Apple hype train for just a second. This is a quote from the presentation: 'You are going to see a gaming experience unlike any you've seen before'.

I don't know exactly where the line between hyperbole and outright lying is, but I know this quote is toeing it. The next generation MacBook Pro will have an Nvidia GeForce GT 650M graphics processor. For laptops, that is the highest of Nvidia's mid-range line of notebook graphics processors. That means that while you'll be able to play most computer games on the market (at least, the ones you can actually play on a Mac), you won't be running them on the highest settings. Again, the Retina display is very nice, but the GT 650M isn't going to maximize the potential of that display for gaming. It will be a gaming experience that you have assuredly seen before.
Kinney warns: "Before you make your decision, you should consider this -- you can get an awful lot of other high-end notebooks that are almost as impressive for much, much less money".
Price Comparisons
Unquestionably, MacBook Pro with Retina Display has jaw-dropping specs and price to match. That's one of the main reasons Olivarez-Giles' year-advantage over ultrabooks claim is so outrageous. These computers aren't in the same class. Ultrabooks are thin-and-lights with displays generally smaller than 14 inches and selling for $1,000 or less. MacBook Pro with Retina Display sells for $2,200 or more. But let's spec it out, and do more meaningful comparisons.
MacBook Pro with Retina Display: 2.3GHz quad-core Intel Core i7 processor (with 6MB L3 cache); 15.4-inch display (with 2880 x 1880 resolution); 8GB of RAM; 256GB flash memory; Intel HD Graphics 4000 and 1GB Nvidia GeForce GT 650M; 720p webcam; Thunderbolt and USB 3 ports; SDXC card slot; HDMI port; Bluetooth 4.0; WiFi N; and OS X Lion.
As aforementioned, that one sells for $2,199. Apple also offers standard config with faster processor and 512MB flash storage for $2,799. I wondered, what kind of value is this? So I configured a comparable Lenovo ThinkPad T530 -- and, whoa, it costs more.
ThinkPad T530 BTO: 2.3GHz quad-core Intel Core i7 processor (with 6MB L3 cache); 15.6-inch display (with 1920 x 1080 resolution); 8GB of RAM; 180GB SSD; 1GB DDR3 Nvidia GeForce NVS 5400M graphics; DVD burner; 720p webcam; USB 3 ports; express card slot; mini-display port; Bluetooth 4.0; WiFi N; and Windows 7 Professional 64-bit. Price as configured: $2,324. Price about balances out when adding Ethernet adapter and DVD drive to the MacBook Pro. Still, IBM's sold-state storage tops out at 180GB and the LED display resolution falls below the Mac's IPS display. Apple's laptop is thinner and lighter, too.
I also priced the Sony VAIO S with 15.5-inch display.
VAIO S: 2.1GHz quad-core Intel Core i7 processor; 15.5-inch display (with 1920 x 1080 resolution); 8GB of RAM; 256GB SSD; 2GB Nvidia GeForce 640M LE graphics; DVD burner; webcam; USB 2 and 3 ports; SD card and Memory Stick slots; HDMI port; Bluetooth 4.0; WiFi N; and Windows 7 Home 64-bit. Price as configured: $1,729. The VAIO sells for $470 less than the Mac, but offers twice the graphics memory and lower high-resolution screen -- granted, Apple's display offers more.
Specs are but one consideration. There are many other factors that make up a good computer, with operating system and motherboard design being among them. But the question remains: Will you buy Apple's 15.4-inch MacBook Pro with Retina Display? Please take the poll above and answer in comments below.