0 A.D. raises the game for open-source RTS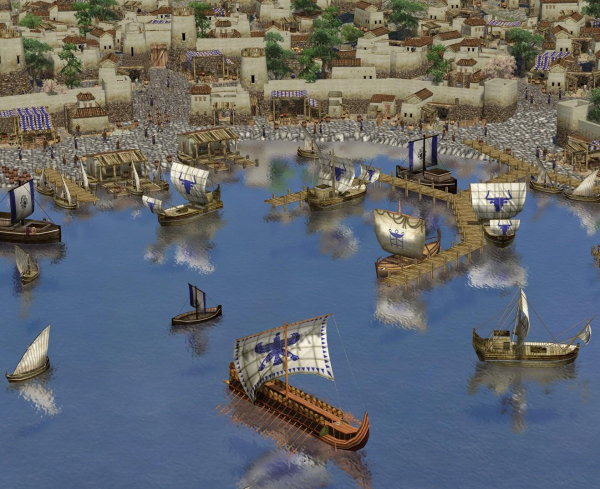 Open-source RTS games aren't generally known for having quality graphics, even when finished, so you probably wouldn't expect too much from an alpha build. Which is why 0 A.D. is a real surprise, thanks to visuals that are more impressive than many commercial products.
Okay, it's true, the program has been in alpha for a very long time (running on Windows, the Mac and Linux must make for a complex development process), but the attention to detail is still impressive. Your citizens are people, not anonymous blobs. Buildings look as though like people live in them, with seating areas, pots and vases scattered around. And they live in a realistic and complex world, so for instance a desert will have sand, rocks, animals, perhaps palm trees which cast true shadows.
This continues throughout the game, too, so as you upgrade your simple homestead into a mighty citadel, or build a huge army (or navy) 0 A.D. still looks better than the cover art of some of the competition.
The program isn't just about the graphics, though: there's plenty of gameplay, too. You must create units of various types, collect resources, construct new buildings to expand your empire, and of course build an army to protect yourself from (and, ultimately, conquer) your enemies. This isn't quite as intuitive as we'd like so you'll probably need to spend some time with the online manual (which also could be better organised), but once you've mastered the basics then you'll be ready to explore all the game has to offer.
The graphics aside, though, you do have to keep in mind that this is an alpha version, so problems and deficiencies are to be expected. Enemy AI can be a little on the basic side, for instance, and the program crashed a couple of times.
Still, if you're a fan of this kind of RTS game and willing to make allowances for the occasional issue then there's a lot of entertainment value to be found here: with more than 50 scenarios to play, and a multi-player option too, 0 A.D. could keep you busy for quite some time.