Microsoft Word 2012 appears in iOS App Store, but you don't want to buy it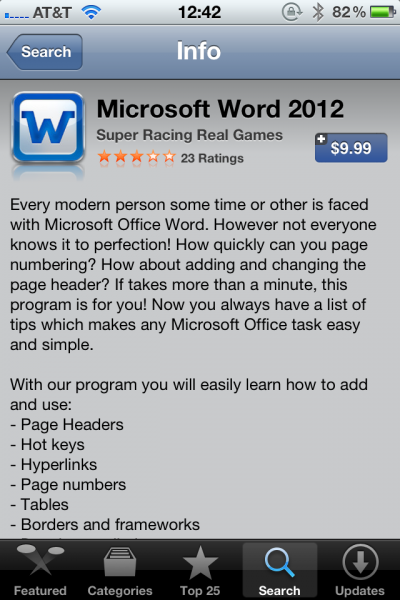 Not unless you'd like to waste $9.99 and feel the fool for it.
That's because Microsoft isn't the developer, but Super Racing Real Games. Well, there's nothing real about this app and the only "super racing" is to get your money before the app disappears, because it can't be long on the App Store. Surely Microsoft will issue a take-down notice -- if for no other reason. But Microsoft Word 2012's appearance in the App Store makes me wonder about Apple's so-called rigorous approval process. The company rejects legit apps but lets this through?
The app popped up on the App Store yesterday, and my astute colleague Eddie Elmore spotted the, ah, fake today. The developer's other apps include Real Robot Attack, Slide Customizer and File Manager. According to the official product info (in case Microsoft Word 2012 is gone when you read this):
Every modern person some time or other is faced with Microsoft Office Word. However not everyone knows it to perfection! How quickly can you page numbering? How about adding and changing the page header? If takes more than a minute, this program is for you! Now you always have a list of tips which makes any Microsoft Office task easy and simple.

With our program you will easily learn how to add and use:

Page Headers
Hot keys
Hyperlinks
Page numbers
Tables
Borders and frameworks
Drawing or clip insert
Text input

Also you will find category of visual videolessons, which explain the most complex tasks.

Download this program and become a guru of Microsoft Office Word!
Seriously, this app raises doubts about how rigorous Apple's app approval process really is. The Apple Fan Club claims the fruit-logo company stringently screens apps, while accusing Google of doing much less for Android. But I've got to ask: How is it that an app called Microsoft Word 2012 created by a so-called games developer would even be considered for approval, let alone make it into App Store?
For a company suing everybody under the sun for alleged patent violations, shouldn't there be more respect and diligence about other developers' copyrights?