Apple's patent case against Motorola is over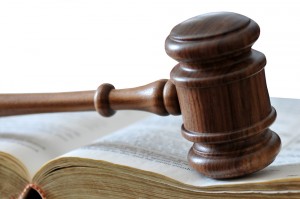 One thing I have to say about US District Judge Richard Posner, he doesn't mince words. He's direct and cutting. If only there were more jurists like him on the bench. Cut he did today, in an order slicing Apple and Motorola to bits -- but the fruit-logo company he turned to mush. In a 38-page opinion and order, the judge effectively ended Apple's patent lawsuit against Motorola. Apple can appeal, but it's finished presenting before Posner.
"It would be ridiculous to dismiss a suit for failure to prove damages and allow the plaintiff to refile the suit so that he could have a second chance to prove damages", he writes. "This case is therefore dismissed with prejudice; a separate order to that effect is being entered today". Ouch.
Posner chopped Apple, its case, demands for damages and the legal arguments supporting the lawsuit, following trains of thought he expressed in recent court hearings. That Posner dismissed the case isn't surprising. The fierce rhetoric and how deeply it cuts surprises.
What I found most interesting: Apple's attempt to do with the court what it does elsewhere -- use clever marketing to convince and cajole. Posner wants nothing but substantive legal arguments in his courtroom. He writes:
In its latest written and oral submissions Apple attempts what I told its legal team at a pretrial conference I would not let it do in the liability trials then envisaged: turn the case into an Apple versus Motorola popularity contest. Apple wanted me to allow into evidence media reports attesting to what a terrific product the iPhone is. I said I would not permit this because the quality of the iPhone (and of related Apple products, primarily the iPad) and consumers' regard for it have, so far as the record shows, nothing to do with the handful of patent claims that I had ruled presented triable issues of infringement. Apple's 'feel good' theory does not indicate that infringement of these claims (if they were infringed) reduced Apple's sales or market share, or impaired consumer goodwill toward Apple products.
The case is important to Apple, or was. Google now owns Motorola, setting up a direct patent fight between the companies and an outcome that could affect all Android, not just a licensee. But Posner wouldn't let the case go that far.
Not that he showed much love for Motorola either and its attempts to get damages from Apple for using what are commonly called FRAND -- "free, reasonable and non-discriminatory" -- or RAND patents. To participate in technology standards, patent holders agree to license on reasonable terms. These cover what are typically called "standard essential patents" that are broadly adopted and necessary, meaning certain products require them.
Posner stated many reasons why Motorola's demands aren't reasonable. Among them: "The Federal Trade Commission recently issued a policy statement which implies that injunctive relief is indeed unavailable for infringement of a patent governed by FRAND".
While both sides are losers, Apple had the most to gain, and so the most to lose. Motorola's FRAND claims already were tenuous at best. From Posner's perspective, neither side made a compelling case for damages or calculation of them. Nor compelling reason for them.
Photo Credit: JustASC/Shutterstock