Vizio drops $99 Google TV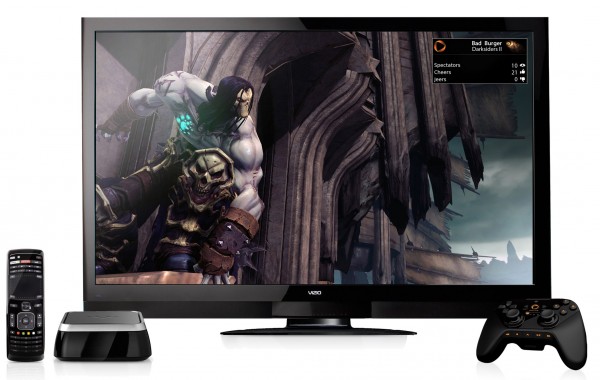 Vizio just dropped what I must say is the first killer Google TV set-top box today. The 4-inch by 1.6-inch high Vizio Co-Star with Google TV will be available for pre-orders in July on vizio.com for $99.99.
The new small form factor Google TV powered device is partners with streaming game service Onlive to promote. The device comes with support for 1080p Full HD and 3D programs. It also has built-in 802.11n WiFi and Bluetooth support. There are also integrated USB 2.0 ports to connect external hard drives, keyboards and other peripherals including the recently released Universal OnLive Wireless Controller.
The Vizio Co-Star offers DLNA support for phone, tablets and other devices to share photos and videos on your television. It comes with an updated touchpad sporting Vizio's universal full querty keyboard. The device has native support for H.264, MP4, MKV video formats and MP3, AAC, WMA audio playback with up to 5.1 channels of surround sound pass-through audio.
Out of the box the Co-Star will have apps such as Netflix, Amazon Instant Video, YouTube and iHeartRadio installed. And given that this will be a Google TV 2.0+ device you will also have support for plenty of other android apps down the pipeline.