Liveblog from Google I/O -- it's insanity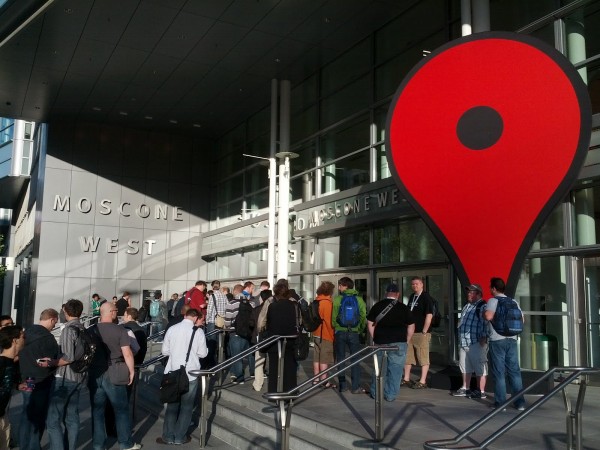 I'm here in San Francisco, undeterred by cancelled and delayed flights, and it's madness. At 7 am PDT, when the doors were supposed to open, the line wrapped around and down the block and around the next one. Man, you should have come. I/O closes an exciting month of developer events -- Apple's WWDC, Microsoft's TechEd, Windows Phone and surprise Surface announcement. But the last word goes to Google, which is expected today to debut the Nexus tablet, expand cloud services and delight with lots more. I'm too rushed to go through them all.
The keynote commences at 9:30 am PDT -- that's 12:30 pm Eastern Time, and all updates here will be in chronological order reversed -- meaning newest first. You'll want to refresh often.
11:41 am. That's a wrap.
11:40 am. Here it comes. Participants receive an Android Developer Pack: Galaxy Nexus phone, Nexus 7, latest Jellybean version and Nexus Q. The crowd roars! And won't stop!
11:39 am. The first live event is tonight featuring Paul Oakenfold and Train. Sweet music!
11:37 am. Gundotra returns to wrap up his interrupted Google+ Events presentation.
11:36 am. Well, I guess no one cares now that CEO Larry Page is missing in action.
11:34 am. Brin announces Google Glass Explorer Edition. Available for preorder only at Google I/O. Cost is $1,500 and ships next year. He calls it rough around the edges, but the price mutes audience enthusiasm. So that's big bucks spent today for something coming next year.
11:31 am. My battery is in the red. I've had the Chromebook running nearly consistently since 5:30 am.
11:28 am. Another Glass objective: Accessing information quickly, which is consistent with Google's core product approach. Think search.
11:24 am. Among Google's objectives for Glass: Communication through images and providing first-person perspective.
11:23 am. Glass uses an asymmetrical design that puts the video device, which weighs less than typical sunglasses, and puts the capture above eye level so that it's not in the way.
11:17 am. Here they come into the keynote hall!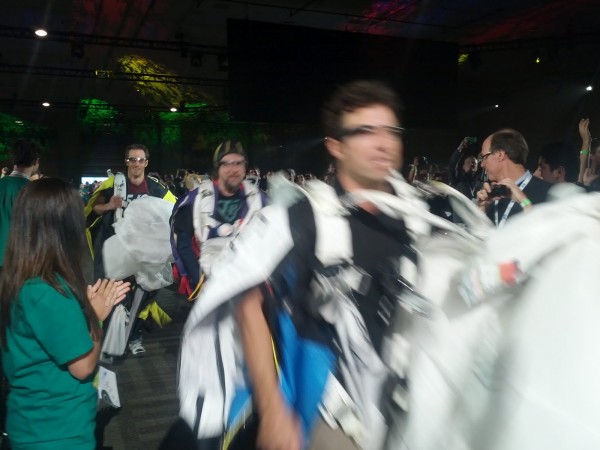 11:13 am. Now guys ride on the roof wearing Glass. Amazing.
11:12 am. He lands on Moscone Center roof.
11:11 am. Brin's friend jumps out of plane in a squirrel suit wearing Glass. What a view!
11:06 am. Google cofounder Sergey Brin runs on stage and he is demoing glass. Surprise!
11:04 am. After the event, guests receive an email asking them to upload their photos and videos, which are collected together, presented in chronological order and identified by person shooting them.
11:01 am. Google+ Events includes Party Mode, which allows live updating from the event, such as photos from different devices showing up in real time. The feature "gives your party a live pulse". There's a real-time slideshow.
10:59 am. Google+ Events is about connecting social with the real world, such as using cinema-graphic invitations. There is calendar integration and invites. "Set the right mood for your event", he says.
10:57 am. New feature: Google+ Events.
10:54 am. New Google+ for Android app also is available today.
10:53 am. Google+ for tablets, available today! For Android. "Available for iPad, soon", Gundotra says.
10:52 am. "We have more people using Google+ from mobile than desktops".
10:51 am. Google+ users spend 12 minutes a day in the stream.
10:51 am. Gundotra says there 250 million Google+ users and 150 million monthly active users -- half of them active every day.
10:48 am. Gundotra is back to discuss Google+, which he announced one year ago tomorrow.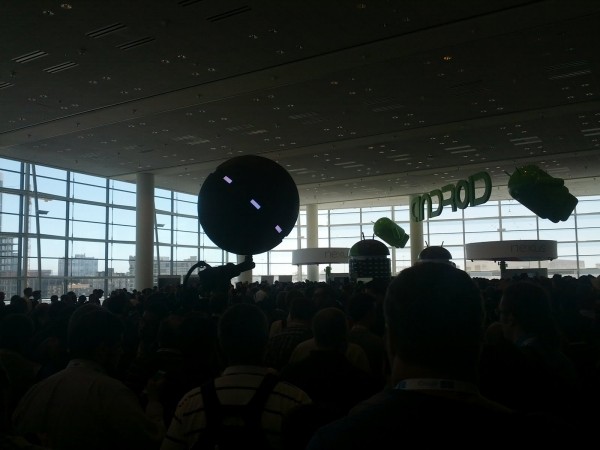 10:45 am. Nexus Q will cost $299 and ships in July, with preorders starting today at Google Play. (Photo is giant one outside the keynote hall.)
10:43 am. Nexus Q hugely leverages the cloud and sync. You hook up your device to any TV, and so take your movies with you. There's no configuration and no messy DRM-connect to deal with. Movies resume where they were last watched.
10:41 am. Hell, everyone thought the tablet would be the big gadget news. And Google kept this secret. Move over, Apple.
10:40 am. Google calls Nexus Q the first social connected streaming device. Friends can add their songs to the device from their Google Play libraries. This is great for parties, eh?
10:36 am. Nexus Q integrates into Google Play, pulling your content from there. You use your Android phone to control it. The sphere-shaped device connects to home speaker systems and features NFC, digital audio ports, WiFi and Ethernet, among others.
10:34 am. Nexus Q is a cloud-connected Android computer. Gee, what does this mean for Chromebox?
10:33 am. Google has designed its first consumer electronics device -- Nexus Q
10:31 am. Nexus 7 price, as rumored, starts at $199, which includes $25 credit for Google Play and some free games. Preorders start today at Google Play and the device ships in mid-July.
10:29 am. Google also pitches Nexus 7 as a portable gaming platform, taking advantage of the CPU, GPU and Project Butter performance improvements.
10:28 am. Google Currents is updated and that includes translation capabilities.
10:27 am. Nexus 7 supports offline maps.
10:25 am. Chrome is the standard browser!
10:24 am. Uh-oh, there's a new Shazaam-like feature for listening to and identifying music.
10:24 am. Following the theme of Google Now, a new recommendation widget uses your past activity to suggest content.
10:22 am. The presentation is beautiful and reminds of Google+ for Android and iOS. Full bleed, baby.
10:20 am. Everything about Nexus 7 is killing Kindle Fire. The basic setup and presentation of content is oh-so similar in concept.
10:18 am. Nexus 7: 7-inch display, 1280 x 800 resolution, quad-core Tegra 3 processor, 9 hours HD video playback, weighs 340 grams.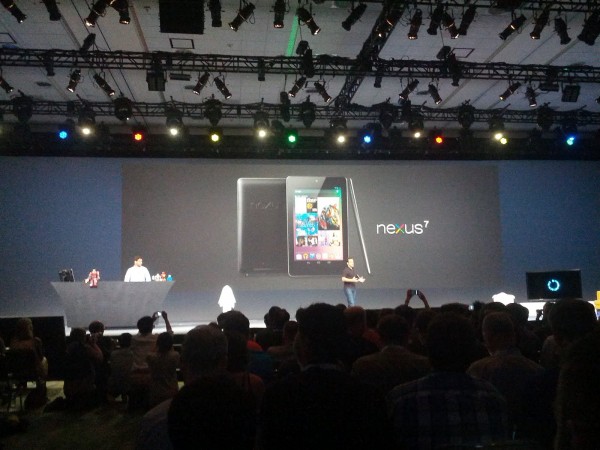 10:17 am. It's Nexus 7, running Jellybean and designed for Google Play.
10:16 am. Here it comes -- the Google tablet, manufactured by ASUS.
10:16 am. Magazine subscriptions are new, a big catchup with iPad.
10:15 am. Available today, movie and TV purchases, which is a catch-up feature.
10:14 am. Yerga discusses Google Cloud Messaging, which developers can tap into for free.
10:12 am. New Jellybean feature: Device-specific encryption for apps.
10:10 am. Google Play unpaid apps are available in 190 countries, 132 countries paid.
10:10 am. Chris Yerga, engineering director, discusses Google Play. There are 600,000 apps and over 20 billion downloads.
10:08 am. Jellybean SDK releases today.
10:07 am. Jellybean will be available to Galaxy Nexus and Motorola XOOM devices in mid July, as well as to open source.
10:04 am. Google Now looks in every way a superior personal assistant to Siri, and it shows how all that information the search giant collects can benefit you. If Google Now works as good as it demos, it will be Jellybean's killer feature.
10:00 am. Final search change -- Google Now, which uses your history, such as web searches, calendar, etc. Example: Offering best route to work based on your usual commute. Another example: Search for a flight, Google Now updates you on your flight status.
9:59 am. Uh-oh, voice search delivers answers ala-Siri. Ask a question, get an answer like Siri. Presentation is beautiful.
9:58 am. Search UI is completely redesigned, in a card fashion that reminds somewhat of Apple's Siri. Behind the cards are standard search results. The feature also taps into Google graph.
9:55 am. Wow, wow. There are many new Notifications enhancements. They expand, collapse and show more information.
9:54 am. Two new Android Beam features: Share videos and connect to NFC devices via Bluetooth.
9:54 am. More than 1 million NFC Androids ship every week.
9:53 am. New swipe features improve viewing the photos as you take them on the camera.
9:52 am. Jellybean supports gesture and touch, for the seeing-impaired, and connection to Braille devices via Bluetooth.
9:50 am. Jellybean improvements mean that voice typing now works without a data connection.
9:45 am. Performance gains are about getting things in lockstep, such as task and graphic operations. This Jellybean feature will be US English first.
9:43 am. David Burke, engineering director, discusses Project Butter, for improving Jellybean performance. "Everything feels a lot smoother...all buttery smooth".
9:42 am. It's official, Android 4.1, Jellybean.
9:41 am. 1 million activations per day, up from 400,000 last year.
9:40 am. 400 million Android devices activated, up from 100 million during last Google I/O. That's more than iOS.
9:37 am. Crowd countdowns and Vic Gundotra takes the stage. "Welcome to Google I/O". He says 1 million YouTube viewers.
9:31 am. MGMT plays, keynote starts in 5 minutes.
9:27 am. There are Droids everywhere.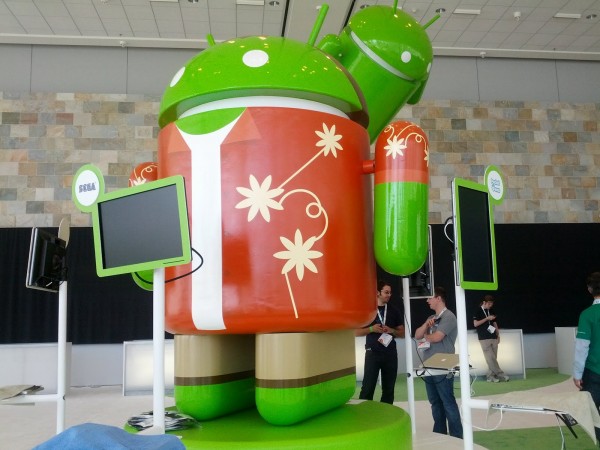 9:22 am. As I come up the stairs, there's little question what this event is all about. Android.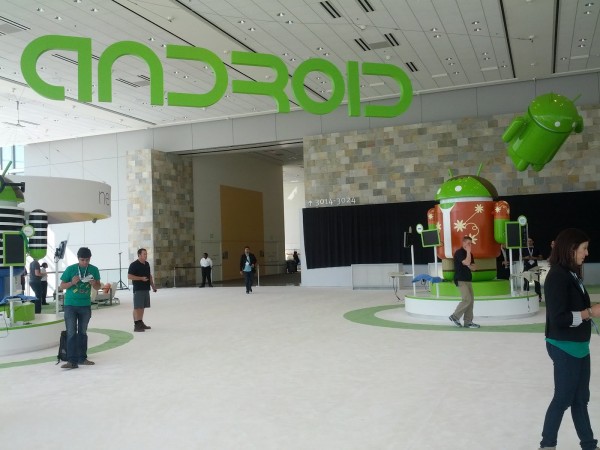 9:20 am. The crowd runs in.
9:18 am. Keynote doors are still closed. More than 5.000 people wait, crushed down a wrap-round hallway that blocks access to the press room.
9:10 am. I see one of many Android phone charging stations.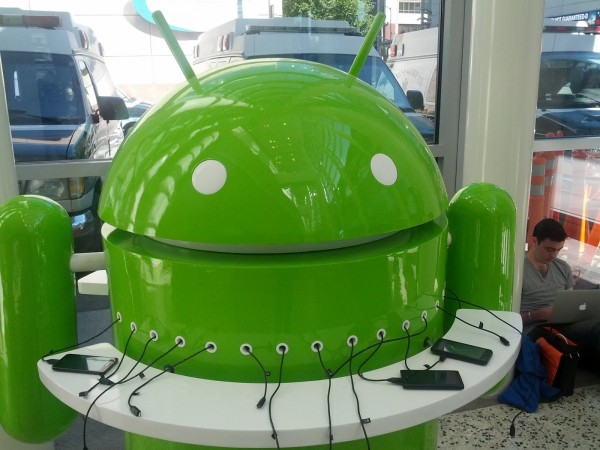 9:00 am. As attendees pass, a lone Googler tests the classic Pac-Man machine.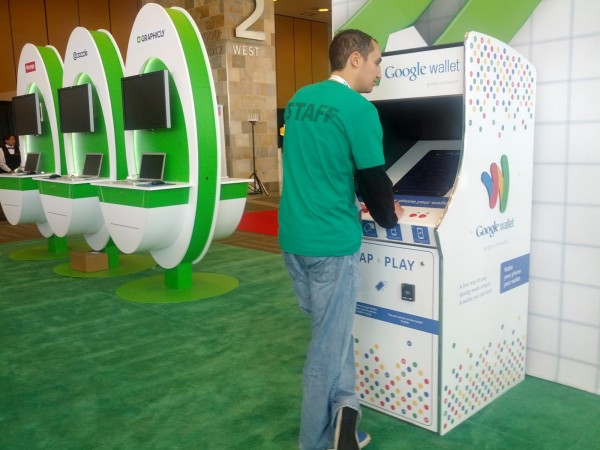 8:55 am. Attendees shuffle upstairs to make room.
8:43 am. A Googler says there about 5,000 people waiting to get into the keynote.
8:40 am. I just spoke with three guys from Ice Development. Some of their work involves games, and they say the hardware Chrome OS currently runs on isn't good enough. Get this: Their games run better on Ubuntu on the same hardware.
8:23 am. The downstairs area is full of developers waiting to get into the keynote. Doors open at 9 am. I've started conducting video interviews with developers, using my Galaxy Nexus and uploading directly from the phone to YouTube.
8:00 am. Now this is a conference. Free soda, including regular and diet Dew.
7:44 am. Buzz is big. Over breakfast, developers chatter about the keynote and what comes next. Pretty much everyone expects the Nexus tablet. But is it enough to woo more of them to developing for Android before iOS? That's a question better answered after the keynote finishes.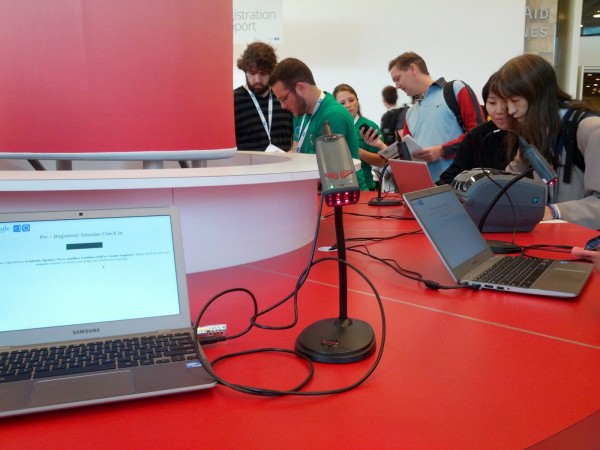 7:21 am. My God, there are Chromebooks everywhere. At registration and anywhere you could possibly look. Samsung Series 5 550s one and all. I'm using one, too. Shame. Shame.
7:20 am. We're in, and a crowd of green-shirted Googlers greets the first people coming in the door.
7:00 am. The crowd is enormous and anxious, because the doors aren't open. The entrance is marked like you would a Google Map.