Piracy is killing Android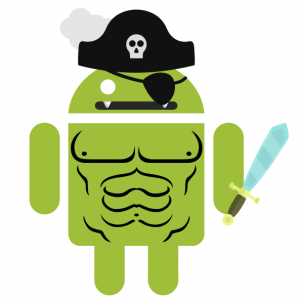 It sounds like a silly question. After all, Android is more popular than ever, with new "hero" phones and tablets arriving almost every week. However, for all of the platform's success, there's one aspect that remains a lingering blight on Google's otherwise shiny success story: Software piracy.
Simply put, the rampant piracy of apps on "rooted" Android devices is killing developer momentum, with many devs resorting to unpopular and often intrusive in-app advertising and other gimmicks to make up for the gap in traditional Google Play revenue. And with the Android enthusiast community seemingly obsessed with "rooting" every new device that comes to market -- thus making it easier for unscrupulous users to pirate apps and/or bypass normal app security mechanisms -- the problem only  gets worse.
As my regular readers will attest, I'm a huge BlackBerry Playbook fan. I think it's the best tablet platform out there for serious professionals who value portability and connectivity over entertainment or gaming. However, the limited selection available in Research in Motion's AppWorld means I'm often forced to look for Android alternatives that will run within the Playbook's integrated Android 2.3.3 runtime environment. And since said environment does not support Google Play, I'm forced to venture into the seedy underworld of ripped Android package files (.apk's), which I then convert (using RIM's Android app porting tools) and "sideload" onto my Playbook.
For the record, I only download and convert apps that are normally freely available on all Android devices -- e.g. Google Maps (version 6.09 works great on my Playbook). Note, also, that there are now legitimate sites dedicated to this process -- though I still prefer to "roll my own".
So, it's with some sense of detachment that I approach the topic of Android piracy. This is not my native platform of choice, and yet my own experience investigating early Playbook app piracy makes me sympathetic to the plight of Android developers. On the Playbook, RIM finally addressed the issue by encrypting the device's backup images as of OS version 2.0.1, making it much harder for would-be pirates to extract app packages (.bar's) for redistribution.
In fact, RIM made it so hard that one of the more notorious Playbook "warez" sites shut down shortly after the company released the aforementioned OS update.
From what I can tell, there is no equivalent safeguard in Android. Developers essentially are left to their own devices, which now often includes incorporating in-app advertising that violates the user's privacy by uploading personal data without authorization. It's a clear sign of developer frustration with Google's handling of the Android app ecosystem, and a big reason why iOS maintains a healthy app lead over Android despite the latter's massive penetration across a spectrum of wildly popular devices.
Frankly, I pity the Android developer community. While their contemporaries in the much smaller RIM AppWorld market are making industry-leading revenue per app -- thanks to a robust delivery system, "unrootable" devices (it's a RIM thing) and a generally more mature and responsible demographic -- Android developers are scratching and clawing just to get by.
No matter how you spin it, software piracy is a cancer eating away at the soul of the Android platform. And Google couldn't seem to care less.
Catch Randall C. Kennedy's smart analysis of tech trends every Tuesday and Friday here at BetaNews.