Got iPad? Get Google+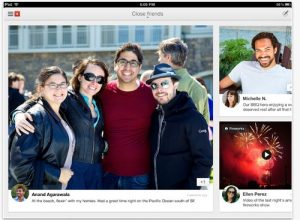 In May, Google+ debuted for iPhone in Apple's app store, soon followed by an app for Android. Two weeks ago, at the I/O developer conference, Google updated the Android app again, with a lighter tone design similar to the actual Google Plus web pages as well as design support for tablet UI. The wait is over, Apple tablet users. Google+ for iPad is now available in the iTunes App Store.
The app includes a boatload of new features across the board, such as the above mentioned support for tablets, with rotation orientation. It now supports the use of 'pinch' gesture to expand posts to add comments. You can also use the 'two fingers to drag' gesture to drag posts in your stream to reshare. Enabled now is the ability to attach instant upload photos to any post you make.
Also in the update is the new Google+ Events feature, similar to Facebook events. But unlike Facebook events it will stay in your Google Plus stream. Google+ Events will also combine shared photo albums taken at the event, creating smart event galleries, for the rest of the attendees to access.
You can now start or join Google+ Hangouts. Straight from the iPhone or iPad, up to nine friends can join you for mobile Hangouts. On top of that you can stream it to your TV using Airplay to your Apple TV. So now your hangouts are shared and viewable on your large HDTV.