Windows 8 will be the new Vista?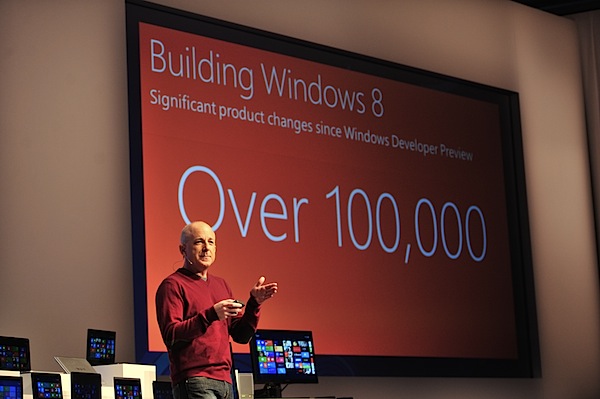 What should business expect from Windows 8? Do they even want it? Do IT decision-makers believe the OS will provide them with additional features that will improve their business operations? We can't fully know the answer until Windows 8 launches in October, although more will be revealed when volume-license subscribers get access to the software early next month.
For now, here is what we do know: Version 8 is a sharp break from the existing Windows brand of operating systems. That brand has been around since the DOS-days. Microsoft is striking out in new ways that will push the OS technology in new directions. Many businesses won't want to follow.
The preview edition of Windows 8 was released several months ago, and it has given consumers and businesses the opportunity to test it and see what they like, or don't like.
The Good Side
While the jury is out, we can say that there are companies that like the opportunities Windows 8 presents. Among them, PCL Construction, Rooms to Go and the Dutch Public Prosecution service have found Windows 8 to be a good solution for their services.
PCL Construction recognized an opportunity with Windows To Go and how it could enable the work styles of its employees. Working with Windows 8 Release Preview versions of Windows To Go, PCL Construction employees can carry their entire managed corporate desktop and bring it along with them on a small bootable USB drive wherever they go -- on the jobsite, from a field office, or from the comfort of their own home computer. They decided on an early implementation of Windows 8 to get feedback from users quickly and in an effort to remove any potential adoption barriers when Windows 8 rolls out to all employees.
Windows 8 allows companies (or agencies) to use different apps with Windows 8 to provide service to their companies that wouldn't be available under the Windows 7 system. But note, these services are also in tune with the new hardware that will materialize and complement the new OS.
So the bottom line is that to use the Windows 8 system, you may also have to upgrade your hardware. Microsoft is creating a family of applications that will work with tablets, laptops and PCs that will make Windows 8 more reliable and relevant because the surrounding software integrates with the hardware. This is new because in the past you could look at a Microsoft program as a standalone unit in the PC. That is, however, not what these new programs will be like.
The Dark Side
But that is not the overall consensus of reviewers. Gripes about Metro are frequent. Some companies and people don't like the new user interface when they look from a business perspective. Here are some comments:
"The Metro UI, while great for tablets, is not well accepted on the desktop and laptop side. We need policies to be able to disable it and enable the regular start menu". Techieg
"Here at my school district we are redoing the networks. We will not be going to Windows 8, but Windows 7 because of Metro UI. The IT department head literally told me in his own words 'it is crap'". James Manes
"Sadly, what MS is offering is simply not an OS geared toward doing real work: it's designed to ease your access to captive social platforms and for media playback". Arstechnica
And the Problem Is…
OK, so what is the problem? In part, users still expect the Windows format that has been around for 25 years. They don't want to change, at least not at the GUI level. But are they right about Metro? Again we will have to wait and see the full deployment of Windows 8. Microsoft claims Metro is about ease of use. But some users complain that the focus on Metro is more towards the social media side than it is on the business side. And if that is true, then it will blow up from a business perspective.
If Microsoft is gearing Windows 8 OS to compete with Apple, or Facebook by leaving its gold earring, its business model, at home, then Windows 8 will fail -- it will be a new Vista.