Holy Moly, Google's Marissa Mayer takes over Yahoo

Suddenly there's hope for the iconic Internet brand.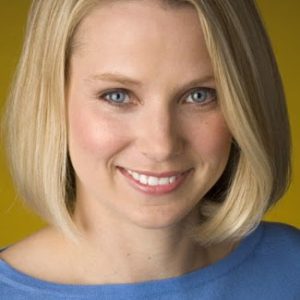 After the market closed today, Yahoo named Marisa Mayer chief executive officer, someone with the chops capable of reviving the struggling online giant. Mayer is best known for her role at Google, where she has had huge influence over cloud products during much of the last decade.
"I am honored and delighted to lead Yahoo, one of the internet's premier destinations for more than 700 million users", Mayer says. "I look forward to working with the company's dedicated employees to bring innovative products, content, and personalized experiences to users and advertisers all around the world". (That's about the most canned response coming from Mayer ever, I must say. What PR wonk wrote that?)
"Yahoo's products will continue to enhance our partnerships with advertisers, technology and media companies, while inspiring and delighting our users", Mayer emphasizes. "There is a lot to do and I can't wait to get started".
Mayer's G+ profile still has her working at Google, where she was vice president of Local, Maps & Location Services. She posts: "I'm incredibly excited to start my new role at Yahoo tomorrow".
Giant Leap
Obviously, CEO is a big step up from veep. But she is, or was, Google employee #20 and a visible one at that. She's a huge loss to Google and enormous gain for Yahoo. If among American tech executives there is a female version of Steve Jobs, Marissa Mayer is it. She has long been the public face of Google and most visible spokesperson. The Stanford graduate, who joined the search giant in 1999, leaves a huge hole behind her.
"Marissa is a well-known, visionary leader in user experience and product design and one of Silicon Valley's most exciting strategists in technology development", David Filo, Yahoo cofounder says.
"The board of directors unanimously agreed that Marissa's unparalleled track record in technology, design and product execution makes her the right leader for Yahoo! at this time of enormous opportunity," Yahoo Chairman Fred Amoroso adds.
Yahoo stock rose more than 2 percent in early after-hours trading (to $16), which isn't surprising. After a series of dismal CEO choices, the cloud services provider finally picks someone with the right experience and proven track record. More significantly, Mayer shows real knack about consumer branding and online user interfaces. Her touch can be seen across a swath of Google products -- magic Yahoo desperately needs.
However, working for a company on success track and running one heaving to keep pace are quite different. While Mayer had her share of the Google spotlight, she will find the glare blinding at Yahoo. Expectations will be high from everyone, as she tries to deliver immediate results while making longer-term changes Yahoo needs but shareholders may be impatient to accept.
Brand Equity
But Mayer brings more than just experience and wherewithal. She has established brand equity around her abilities and visibility at Google. Her personal brand image may rub a little shine onto Yahoo's iconic but somewhat tarnished one.
Some of the sentiments expressed on Google+ today reflect her brand equity and real success at Google. "I just can't believe this! #MarrissaMayer but she will be the person that changes Yahoo for the better", Kurtis Washington shares.
"If anyone can make Yahoo! cool again it's her", Joshua Grooms writes.
Christina Collada, who also works at Google: "Exciting to see a women who I admire very much assume a CEO position in a such a major tech company, but also very sad to see her leave us!"
Yahoo needs someone with Mayer's credentials and track record. In May, the company ousted Scott Thompson for fudging his résumé -- that after about five months on the job. Thompson replaced Carol Bartz, who Yahoo's board unceremoniously fired in November 2011. She replaced cofounder Jerry Yang, who was forced out, too.
Yahoo burns through CEOs faster than San Diego's July 4th fizzled fireworks. Can Mayer be the exception? The answer has as much to do with what she brings as how she performs. Her personal brand equity and visibility at Google will raise expectations about just how well she will do.
What Mayer will need most is time and patience the board of directors and shareholders were unwilling to give her predecessors. Good luck, Marissa. You'll need Steve Jobs charm to keep the hounds from snipping your high heels.