Is there really 'unprecedented' demand for iPhone 5?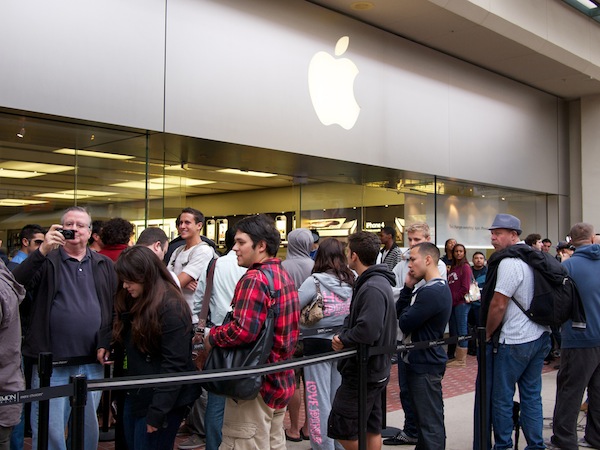 Demand ahead of the launch of Apple's iPhone 5 is "unprecedented", with a third of all potential smartphone buyers planning to purchase the device. The data comes courtesy of a new survey of 4,000 consumers carried out by research firm ChangeWave.
Fourteen percent of those polled say they are "very likely" to purchase an iPhone 5, with an additional 17 percent saying they are "somewhat likely" to do the same. Combined, that represents the highest number for those planning to purchase a new iPhone model.
A ChangeWave study conducted before the release of the iPhone 4S showed a little over 21 percent were either very or somewhat likely to purchase the device.
Of course, ChangeWave has had a general tendency over the years to sometimes overexaggerate things. The most recent example of this was the launch of the iPhone on Verizon last year. A few weeks before the carrier debuted the phone, Changewave published findings claiming 15 percent of AT&T subscribers were ready to switch.
The actual data told a different story -- AT&T's quarterly results during that time period were stellar. Instead of a drop year over year, new phone activations were up 23 percent -- likely indicating the launch on Verizon had little effect on its competitors.
All this said, it may be worth expecting a far more muted (yet still significant) consumer response to the iPhone 5. Yes, the likely inclusion of LTE and the capitulation on Apple's part to include a larger screen will drive a higher adoption rate of this generation iPhone. At the same time, it seems a little difficult to believe that difference will be 44 percent higher as ChangeWave (when comparing the 4S survey to the iPhone 5 data) suggests.
There's a whole caveat to the demand argument though, and that's distribution. The iPhone 5 will be Apple's most widely distributed smartphone to date. There's also the distinct possibility that iPhone will be available for the first time on T-Mobile, considering the carrier's recent moves to "refarm" its spectrum and bring its 3G and 4G bands more in line with US cellular practices.
If that's the case, then demand for the iPhone 5 could certainly reach those lofty ChangeWave numbers. But until then, it's a good idea to take these survey numbers with a grain of salt.
Photo Credit: Joe Wilcos