3.6 million AT&T iPhone activations debunk claims subscribers are fleeing to Verizon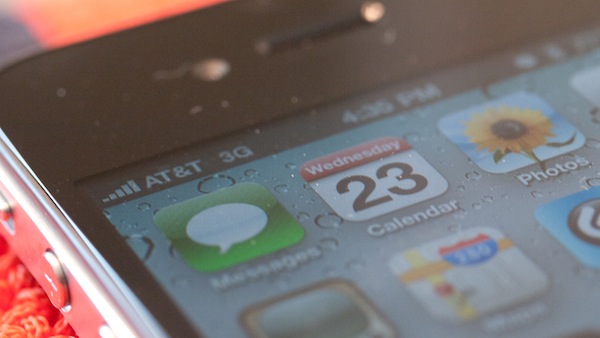 It's the official iPhone first quarter 2011 shipments day. AT&T announced earnings before the bell, and Apple will do so after the market closes. For all those prognosticators predicting a huge exodus of iPhone users from AT&T to Verizon, please accept my big, wet, splatter-in-your face raspberry. Yum.
During Q1, AT&T activated 3.6 million iPhones, up 1 million, or 23 percent, year over year. Three months earlier, AT&T activated 4.1 million iPhones. The 500,000 unit decline reflects seasonal changes more than any substantive competitive sales impact from Verizon iPhone. Important metric: AT&T said that iPhone churn, meaning subscribers switching carriers, was about the same as Q1 2010. Total churn for all categories was 1.36 percent, up slightly (1.3 percent) year over year. Churn was 1.32 percent in Q4 2010.
More broadly, AT&T added 2 million subscribers -- for 97.5 million -- and sold 5.5 million smartphones. Assuming a direct correlation of iPhone sales to activations, unlikely because of blackmarket purchases, Apple's handset accounted for nearly two-thirds of all AT&T smartphone sales. Now that AT&T is adding Android smartphones -- and Windows Phone 7 handsets, too -- the mix could change.
The crazy predictions about how many AT&T iPhone subscribers would flee to Verizon are looking more insane than ever. ChangeWave claimed that 26 percent of AT&T's iPhone subscribers would switch to Verizon. "ChangeWave's iPhone-switching-data is unreliable" I wrote in January. Days before Verizon iPhone launch day, uSamp issued survey results claiming that about a quarter of AT&T and Verizon customers planned to wait in line for the CDMA iPhone.
Verizon launched iPhone 4 in early February, with a big shocker: No lines. Apple and the cellular carrier clearly expected them, but people didn't show up. A few days later, I asked: "Say, whatever happened to that 1 million Verizon iPhones sold announcement?" Typically, if sales were good, Apple would say so, particularly when adding America's largest cellular network to the iPhone family.
In late February, Verizon Wireless CEO Daniel Mead did damage control PR, claiming that Verizon iPhone broke sales records unsupported by any data. However, he did say that 60 percent of sales were online, which I used to debunk assertions from the Apple fan club of analysts, bloggers and journalists assuming that Verizon must have sold 1 million iPhones during the launch.
Of course, AT&T has something Verizon doesn't -- the $49 iPhone 3GS. Have you seen the advertisements for this thing? I can't get away from them during prime time. AT&T's earning results don't indicate how many activations are for the dirt-cheap, older iPhone. But I wouldn't be surprised if they accounted for a substantial percentage of sales.
As for Verizon, iPhone sales could still be good. Just because AT&T isn't losing substantive numbers of subscribers to Verizon doesn't mean iPhone 4 sales there are bad. I wouldn't be surprised to see Verizon reveal respectable iPhone numbers during its earnings announcement tomorrow. Meaning: Verizon is likely to have expanded iPhone's reach in the United States. The base of subscribers is bigger, rather than shifting from one carrier to another. That's a win for Apple.