Samsung charges up Galaxy smartphone marketing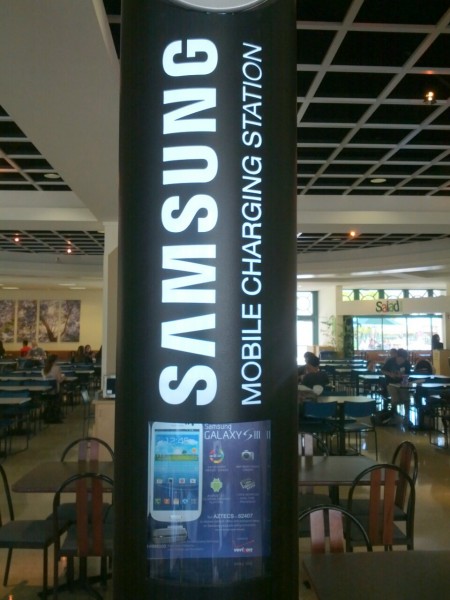 I'm out of the office today attending Freshman orientation with my daughter. We were at San Diego State University for day-long lectures a month ago, but I saw something today either missed before or that is new (I'm convinced it's the latter). The East Commons has two Samsung charging stations that promote Galaxy S II and S3. It's simply brilliant marketing.
Think about it. Education is considered to be an Apple stronghold; some of that is reality, some perception. Two days ago, Apple CFO Peter Oppenheimer said about fiscal Q3: "We achieved all time record Mac sales to US education institutions during the quarter. We sold more than twice as many iPads as Macs to US education institutions. We are extremely pleased with these results".
You would certainly have to agree seeing the Apple gear for sale at the SDSU Bookstore. This morning, students checked in incoming Freshman on iPads. Plenty of summer school students walking around today have iPhones.
The Samsung charging stations establish an important marketing foothold in enemy territory. Placement is ideal, because the Commons is where students and faculty go to eat.
Often the best marketing is subliminal branding. People see the brand regularly. Apple effectively does this with its logo's visibility on laptops and smartphones. Samsung won't get anywhere as much exposure, but anything is better than nothing -- and this is pretty good.
Have you seen Samsung or other branded charging stations at educational institutions?
Photo Credit: Joe Wilcox