Yammer can now detect employee emotions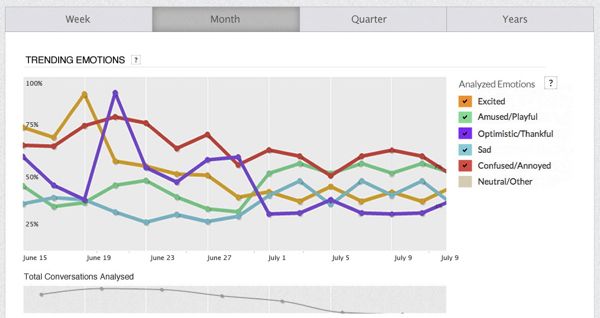 Yammer, the social network and messaging platform designed to be used within companies, announced on Thursday that Kanjoya's Crane sentiment analytics dashboard now integrates with Yammer, letting managers watch their employees' morale, attitudes, and reactions to procedural changes based upon their Yammer posts.
Crane correlates emotional "profiles" with behavior on the social network, and presents employee sentiment in various ways. Instead of trending topics, Crane shows Yammer's "trending emotions," Instead of finding the most popular and influential people, Crane shows whose posts on Yammer have the biggest emotional impact. It is similar to many content analysis engines, but it is tuned specifically to isolate emotional reactions.
"The conversations in Yammer provide a wealth of insight into employee sentiment across all facets of the business," Armen Berjikly, founder and CEO of Kanjoya said in a statement on Thursday. "Kanjoya's Emotional Intelligence engine takes this data from Yammer and delivers detailed, actionable analytics, changing the way companies monitor internal sentiment from subjective gut-feel to data-driven."
Kanjoya integration is available immediately for all Yammer Enterprise customers, but it requires a Crane account. Yammer admins can sign up for a free 30-day trial Crane account to try out the analytics before subscribing to the service.