What Google could do with their $43 Billion in the bank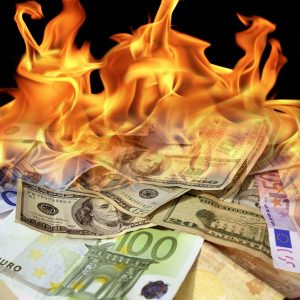 According to Google's recent earnings report, the Mountain View search company has $43 billion in cash reserves. I'm no business expert, but that number seems unreasonably high and I think Google should use some of that money. Some have said that Google has run out of ideas, so to alleviate the situation here are a few ideas:
Sprint Nextel Corporation, Cost: $13 Billion
Sprint isn't the smallest of the four main carriers in the U.S. but it would still be a great way for Google to get its foot in the door. Just imagine what Google could do with a carrier, Android phones could be subsidized into oblivion, phones would at last be updated, no more bloatware, full Google Voice integration, and if Google really wanted to do no evil then every phone they sold would be unlocked. There is also this to consider, Sprint carries the iPhone, so Google and Apple would be in an interesting situation, but Google could play this to their advantage, as they say "know thine enemy."
Dell, Cost: $20.8 Billion
Dell is the cheapest big-name computer company that Google could buy, and if they did, Google could take the Chromebook mainstream like never before. With the Dell brand, and the low price of Chromebooks, Chrome OS would appear on the radar of many consumers who wouldn't have ever considered it otherwise. Google could also use Dell to get into the server room, and affect IT in ways that could benefit Google, what those are I have no idea, but Google could find a way to use that to their advantage.
Adobe Systems, Cost: $15 Billion
One of the complaints about Chromebooks are that they have no options for heavy file editing beyond watered down third party alternatives. If Google purchased Adobe and brought the whole Creative Suite to the cloud, Chromebooks would become a viable option for many businesses. Google would also own Flash Player if they purchased Adobe. As the internet makes the move to HTML5, Flash will play less of a role, but Google would still be able to benefit from having control of Flash.
Autodesk, Cost: $7.8 Billion
Autodesk makes 3D design software for a variety of uses in various industries, their most well-known product is AutoCAD. In July 2011 Autodesk purchased Pixlr a browser based photo-editing app. Of note, AutoCAD WS and Pixlr were both launch partners of Google Drive. Autodesk may not have any offerings for video or music editing like Adobe does, but Autodesk would not burden Google with the responsibility of Flash, and Autodesk already has some web apps in the Chrome Web Store.
Facebook, Cost: $44.6 Billion
Facebook is a little bit out of Google's price range, but Facebook recently had a less-than-stellar earnings report and Facebook stock may be on a downturn, in the next couple of months Google may be able to afford Facebook. The only concern here is Google+, Google has invested so much into the social network that it might be too wasteful to give that all up and spring for Facebook instead, but if the price is right, it may be possible. Otherwise if Facebook gets too low then Apple might be the one with the giant social network instead of Google.
Google Fiber Nationwide, Cost: $400 Billion
The cost of doing Fiber nationally is estimated to be $400 billion and while Google wouldn't be able to do it all at once, Google could really profit if they brought Fiber to more cities, and it seems that Google is ramping up Google Fiber, collecting Fiber-related patents, and looking to hire thirty new employees to the fiber team.
There is certainly no lack of ideas for what to do with all that money, and Google already shelled out $12.7 billion for Motorola, I think Google is just trying to figure what would be the best investment at this point, and that soon, Google will have another big acquisition.
Photo: Jokerpro/Shutterstock