Microsoft loves its stores: launches the Office Store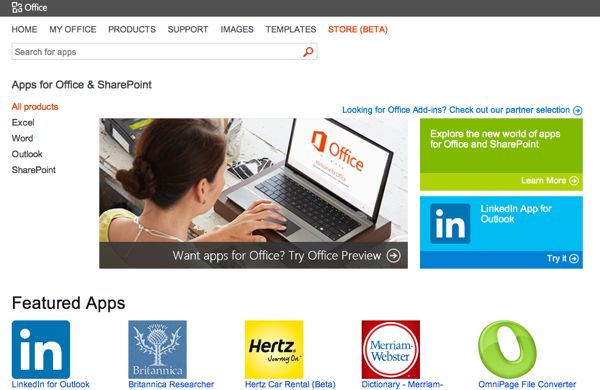 The Office Store, Microsoft's integrated product into Office 2013 is open. Office's new web apps come from the Office Store, where you can purchase add-ins or install free tools. The program became available this week to users with a Microsoft account and a preview version of Office, SharePoint or Exchange. For developers, the store presents a new and large opportunity to increase their income through sales.
Building the Office Store
From a user's standpoint a lot of time is spent using the Microsoft Office suite. That is spending time reading through email, writing reports, analyzing data, preparing sales figures or sharing proposals with others team. There are many critical tools and many critical information sources live on the web or in applications outside of Office. So part of the idea behind the Office Store is so users could integrate different elements of the web with the internal elements of Office and SharePoint.
Here's how it will work. Take a look at Outlook 2013. If you are sent a part number or an address via email, you shouldn't have to open another application to get more details. If you are sent an email from a contact, you should be able to see their LinkedIn details or their sales history right as you read the email. Or, you should be able to interact with and take action on these other applications right from within the Office clients. Well the Office Store will have the right apps for you to integrate that external and internal operation into one. Sounds like a winner right?
Ease of Use
What good is it to have the apps if there isn't an easy way to access and install them? So that is part of the operation to easily get, install, and use apps. Use the Insert tab then use the ribbon and choose "Apps for Office" and you'll see apps from the Office Store. The fact is that users can learn more about apps in the store and even read reviews, or acquire them, and start using them immediately. Wait is not in the game plan.
What's not so good currently is that you can't install apps from within Office. You are always directed to the store where you need to log in to make purchases and add free or paid apps to your account. But, a preview is not the final product and there is still some hope left that Microsoft will integrate the Office Store fully into the various Office programs.
Validation
Soundness, no malware … good to know. All apps listed on the Store go through validation procedures so users can trust them. Then once the user acquires them, they are available right away because these apps are all based on web-standards, so they load straight away. This also means that there's no need for IT to prep them and pre-load them; they are secure and quickly operational.
User Access
What if you use a new machine? Meaning that you have been working with the Office programs on a different machine; now what? Do you have to re-install everything? No it is easy, just sign-in with your Microsoft account and all your apps will be there. Best of all, when you send a document that was created using an app such as an info graphic in an Excel spreadsheet, a reference to it travels with the document so the recipient at the destination can start using that app too. It is a fast way to improve your productivity and it is simple.
The change in Office is now apparent that consolidation of apps to pass into other areas is not in the plan. What you are seeing is a new way of looking at computer applications. It is a way of bringing more users into an information base where standalone projects are a thing of the past in so far as business operations are concerned.