Legendary fiber optic cable ship burns to a crisp on Skeleton Coast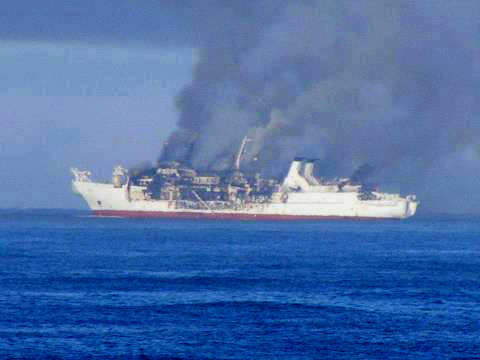 France Telecom-Orange on Friday announced that an unexplained fire had erupted on its cable ship, The Chamarel, off the Skeleton Coast of Namibia in the Atlantic Ocean. After battling the blaze for several hours, the crew abandoned ship. The vessel was returning from a mission to repair the Sat3/WASC/Safe submarine cable which connects Portugal and Spain to nine West African countries, circles around the southern tip of Africa, and connects to India and Malaysia.
The entire crew of 56 escaped the Chamarel safely, and were recovered by a Namibian fishing vessel and returned to Walvis Bay, Namibia. No injuries were reported, but this is the second incident in a single month where a ship has caught fire in Namibian waters. On August first, a South African Tuna fishing boat caught fire and sank outside of Namibian port city Lüderitz.
The Chamarel, formerly known as CS Vercors, is actually a historically important vessel in international fiber optic communications. The ship was in service since 1975, and laid over a hundred thousand kilometers of cable, including AT&T's TAT-6 transatlantic cable, and EMOS-1 the first Israeli-built undersea cable. In 2000, the vessel was used to set the record for the deepest submarine cable at 1,610 meters (just over one mile).
France Telecom-Orange currently operates six cable ships, four are dedicated to maintenance services in the Mediterranean basin, the Atlantic Ocean and the Indian Ocean, and two are used to lay new submarine cable.
Photo Credit: Leon Krauze, Namib Times