AT&T begins giving 'Early iPhone Discount' to select customers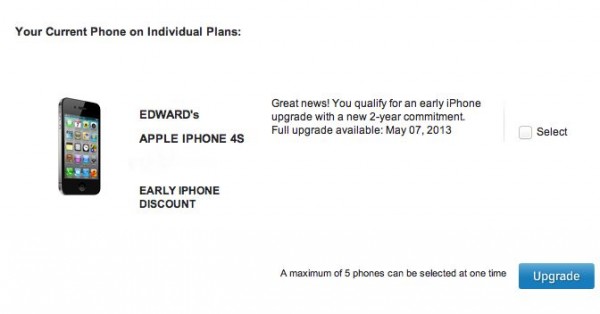 With iPhone 5's launch presumably close, and the 4S itself being discounted at carriers and retailers (and Apple, too, if you ask), AT&T now offers an early discount to smartphone customers ahead of the launch of the next model.
AT&T smartphone customers are being extended the same benefit that iPhone 3GS customers received in 2010 ahead of the launch of the iPhone 4, and some iPhone 4 customers saw ahead of the iPhone 4S announcement. As was the case previously, getting the special pricing requires a new two-year contract.
I am one of those customers. I purchased the iPhone 4S at launch last October. At that time, I signed a new two-year contract which would have made my first possible date of upgrade May of 2013 at the earliest. Instead, upon logging into My AT&T Monday I was greeted by the message in my upgrade center for an "Early iPhone Discount".
Based on several discussions with AT&T representatives, here is what we know of this discount option. The special pricing is the new two-year agreement price plus a $250 fee. Thus, if the new 16GB iPhone 5 was $199.99, those interested in an early upgrade whom are eligible would pay $449.99. If it seems like a higher price than early upgraders paid in the past, you're right: it's $50 more than previous offers.
Upgrade Early, For a Price
This is due to a change in AT&T's early upgrade policy, which occurred last April. The company changed the fee from $200 to $250, telling ComputerWorld at the time, the change "reflects the increased costs" of carrying more sophisticated devices.
There's also another caveat: the early upgrade is only available for a new iPhone. If you want another device, you'll wait until the "full" upgrade date or be forced to pay full retail price, AT&T customer support representatives told us. But even if you're not an iPhone user, you might still be able to upgrade early.
BetaNews found that the "Early iPhone Discount" is being offered to customers who don't have iPhones. In one case in the newsroom, four out of five lines -- three of those four without iPhones -- we're eligible for the discount. The remaining line was a handset upgraded to iPhone 4S this year. This suggests there is a time period necessary before a line is considered eligible. Unfortunately AT&T did not respond to our requests for comment at press time, so it's unclear when that is.
(If you have AT&T, we'd love to hear from you in the comments if you're eligible, and when those lines were last upgraded.)
iPhone 5's Launch is Imminent
We still do not have a solid date for either an announcement of the phone itself (some say September 12) or the launch, but AT&T's already signaling to its loyal iPhone customers that it's willing to give them a cheap upgrade to the next iPhone, as long as they're willing to sign their life away for another two years.
That is at least some evidence that the iPhone 5's launch is near. Boy Genius Report added fuel to that fire, saying Monday that sources within AT&T indicate the company is already posting vacation blackout dates from the end of September through mid-October. The carrier also has apparently rescheduled a training event that was to take place during the first week of October due to a "huge announcement".
Given the iPhone 4S launch happened in October last year, it's not too out of the question to speculate that "huge announcement" could be the debut of the iPhone 5.