Firefox 15 for Android brings Honeycomb tablets a new UX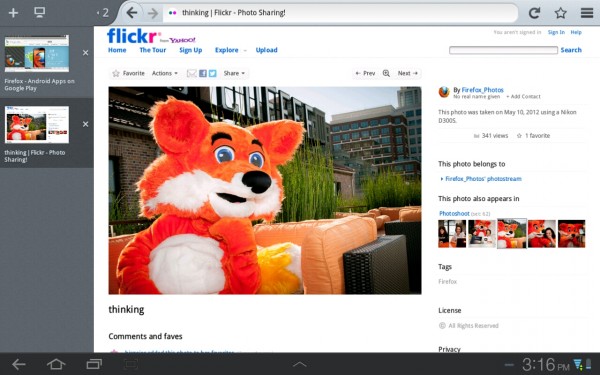 In addition to releasing Firefox and Thunderbird 15 Tuesday, Mozilla also released a new version of Firefox for Android tablets running ICS and Honeycomb!
Last year, I put together a list of what I believed were the ten best apps for Android Honeycomb, and I included both the Dolphin Browser and Opera Mobile in the list. At the time, not even the Nightly build of Firefox was available for Honeycomb devices. That did not come until five months later, and it was still in a very early UI form.
With build 15 of Firefox for Android, the UX which originally debuted two months ago in FF 14 is now the same across most Android versions. Ice Cream Sandwich, the first build of Android for both smartphone and tablet screen sizes has received a tablet-specific UI, and Honeycomb, the build that has proven to be Android's first major odd man out, is very nearly being treated as a first-class citizen by receiving the same treatment. Good job, Mozilla.
In addition to supporting Honeycomb tablets, this version promises a faster startup, the ability to "ctrl-F" find in page, a new select text tool, the ability to request desktop sites, tabs that can be swiped closed, support for the SPDY networking protocol v3, and the ability to pass bookmarks and settings from the stock Android browser over to Firefox.
In many cases, Firefox is a superior browser to Chrome in standards support, and in this build, Mozilla has added native support for the Opus audio codec, and the source element now supports the media attribute, which means the browser can select alternative video and audio files based on media type and codec support. Speaking of media types, Flash continues to be supported in this build and extends to Honeycomb-based devices.
Firefox for Android can be downloaded in Google Play now.