Parallels 8 launches, supports Mountain Lion and Windows 8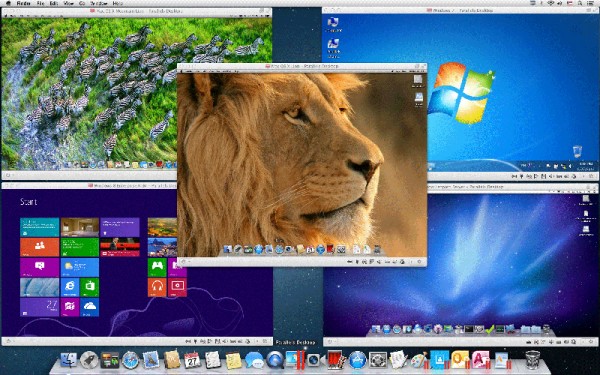 Parallels Holdings Ltd has announced the launch of the latest version of its Mac virtualization tool, Parallels Desktop 8.0.18100. Parallels allows Mac  users to run a variety of operating systems, including Linux and Windows, in a virtual environment, while integrating non-OS X applications into the Mac interface.
Version 8 extends support to both Mountain Lion and Windows 8, plus takes advantage of new technologies such as Retina displays, allowing Windows to run in a high-resolution environment.
The big update to Parallels comes with full support for Mountain Lion, including full-screen support for Windows applications, use of Launchpad for Windows apps and the ability to run Mountain Lion as a guest OS, plus Notification Center support for both Parallels itself and Windows desktop alerts. The update also talks about full Retina display support for Windows, but this was introduced in a previous update for Parallels Desktop 7.
There's a new Presentation Wizard, designed for demoing presentations on  an external monitor or projector, plus an option for switching from Safari to the same page in Internet Explorer with a single click.
Parallels Desktop 8 also supports using the new Mountain Lion Dictation feature in Windows apps, plus you can now drag and drop attachments to the Windows Outlook dock icon for attaching them in a new mail.
Also new are multi-language keyboard sync, shared Bluetooth and Trash, better OS X Guest support, plus improved integration with Mission Control and Spaces. 3D graphics support is improved, with up to 1GB RAM now available for assigning to a virtual machine.
Other performance improvements are claimed faster boot and pause/resume times for virtual machines (up to 25%), plus I/O operations and games run up to 30% quicker than in version 7. Parallels 8 also promises longer battery life, enhanced snapshots and virtual machine management tools for managing VM demands.
Full Windows 8 support hasn't yet been implemented -- it's promised in a future update after its final release -- but enhancements should include full multi-touch support on compatible displays and the ability to download Windows 8 direct from the Parallels Wizard.
Parallels Desktop 8.0.18100 is available as a free trial download for Macs running OS X 10.6.8 (Snow Leopard) or later with a Intel Core 2 Duo processor, 2GB RAM (4GB recommended) and up to 15GB free hard drive space for Windows in addition to the program's own 700MB requirements. The full version retails for $79.99 -- upgrades are available for Parallels 6/7 users for $49.99.