Why pay $199 for iPhone 5 when you can spend $3,500?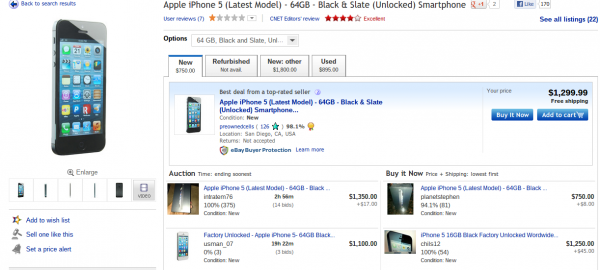 This afternoon, I received email with subject line: "The iPhone 5 is available on eBay -- now!" Oh, yeah? I thought the device is pretty much sold out. So I took a peak.
Twenty-two are listed from the link that eBay provides -- to 64GB models, which by far cost the most. Bargain price: Black Sprint model for $750 new, from a seller in Florham Park, NJ. But wait! The price was too good, and the item sold while I wrote this paragraph. For the big spender, a seller from Newark, Del. offers the black Verizon for $3,500. Say, does that come with free AppleCare+ warranty? And a car to drive it home?
A buyer in Las Gatos, Calif. won't be undersold. He has the 64GB white Verizon for just $2,000. The only other bargain -- a term used cautiously -- is a 32GB black Sprint model for $789. Less than a week after launch, iPhone 5 is not available for full price from Apple or carriers. Subsidized pricing: $199 (16GB); $299 (32GB); $399 (64GB). There's quite the price premium then on eBay.
I don't see many iPhone 5 listings on San Diego Craigslist. Among them: 64GB black for $1,100. For three hundred dollars less, another seller has the 16GB white.
What about the 4S? For three Ben Franklins, you can buy a water-damaged 16GB Verizon model on eBay. Hey, I spend this much on broken tech all the time. Don't you? But someone wants the phone. There are seven bids. Oh the desperation! Three-fifty, as in $3.50 not $350, is the high bid. Nearly none of the first 100 iPhone 4S auctions have bids, with the highest being $11.50. There are 55 pages of these phones.
I looked at San Diego Craigslist, and asking prices for iPhone 4S look lots lower to me than previous years. I easily sold my 32GB black in May for over $500. I don't see anything that high in a cursory look today. There are a couple 32GB models for around $400, but most sellers ask much less.
That makes me wonder about the iPhone 4S aftermarket, if it's going to be anywhere as good as previous release transitions. In the past, I successfully sold older models for enough to pay for newer ones. How about you? Have you tried to sell iPhone 4 or 4S? Successfully? Not?
Perhaps you bought or sold iPhone 5. Now there's a story for comments.