PC is no longer personal computer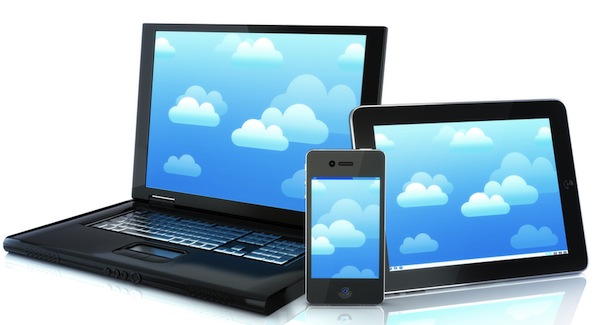 Do you own a Windows laptop, iPad and Android smartphone? Welcome to the post-PC era, which transition IDC describes as "profound". During second quarter, smartphones and tablets commanded 69 percent of smart device shipment share, dwarfing PCs.
"Recent shipment data clearly demonstrates that we have fully entered into the multi-device era, where individuals are buying and using multiple devices per person, most often with different combinations of operating systems", Bob O'Donnell, IDC vice president, says. "The implications of this development on application developers, device makers, Web service providers, businesses and even individuals is profound".
The days of the PC being the device or one acting as main hub are over.
For about three decades, a single device defined computing -- and with Windows dominance a largely singular platform for applications developers and other third parties. That's changing at a fast pace and creating headaches for enterprise IT.
Manufacturers shipped 267.3 million smart devices during second quarter, up 27.4 percent annually but only 2.8 percent sequentially. Revenue rose 16.3 percent year over year to $131.5 billion but declined 2.7 percent quarter on quarter. That reflects weakness in the US market and increased price commoditization.
In the United States, unit shipments fell 7.8 percent from 2011 and 5 percent from second quarter to 47.4 million. Revenue declined even more -- 8.6 percent annually and 10.3 percent sequentially, to $24.8 million. Saturation is major factor explaining these falls.
IDC predicts smart-device shipments of 1.2 billion for the year and 1.4 billion in 2013 -- 27.4 percent and 19.2 percent year-over-year increases, respectively. Shipments should top 2 billion by 2016. In that year, Asia-Pacific will lead other regions with 800 million units, followed by the Americas (600 million) and Europe, Middle East and Africa (530 million).
Smartphones lead Asia-Pacific's rising importance. For 2012, IDC predicts shipments to China will surpass the United States, becoming the top region. In 2011, US share was 21.3 percent compared to 18.3 percent for China. This year, China is expected to reach 26.5 percent, while the United States falls to 17.8 percent.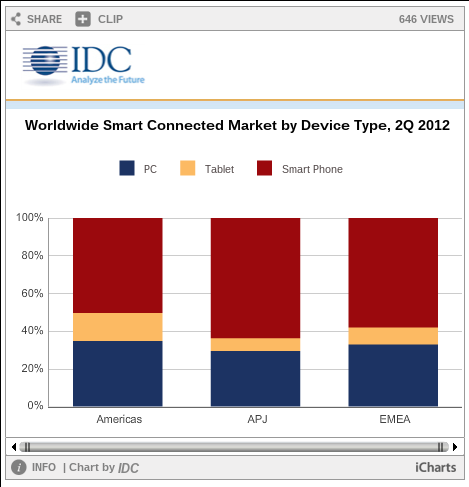 Not surprisingly, smartphones dominate the smart device market -- 59 percent share this year growing to 63 percent in 2016. That's 15.8 percent compound annual growth rate. But tablets are growing fastest and quickly encroaching on sacred PC turf. Globally, IDC predicts that tablets will reduce PC share of smart devices to 24 percent in 2016 from 31 percent this year. IDC predicts 22 percent CAGR for tablets, with share rising to 13 percent from 10 percent during the forecast period.
However, tablets are unpredictable, since most the of growth so far is in mature markets, leaving the majority of the world untapped.
Word of caution: IDC and most other analyst firms have to date grossly under-estimated smart-device growth rates. Smartphones, and Androids particularly, far exceed projections made even two years ago. In such rapidly changing market, tablet shipments could easily exceed forecasts or even fall below them. There, netbook is case study. The category analysts were so sure in 2009 would be big today collapsed, particularly after Apple released iPad two-and-a-half years ago.
Photo Credit: Digital Storm/Shutterstock