Inrix Traffic for Android update helps you find cheap gas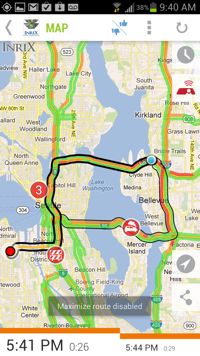 Realtime automobile traffic data service Inrix on Monday released a major update to its freemium Inrix traffic app for Android. Now in its second year on the Android platform, Inrix has improved aspects both premium and free within the application.
Inrix Traffic utilizes live traffic data and scheduled event data to calculate the fastest routes immediately at the time of travel, or at some point in the future rather than strictly using distance calculations like Google Maps. Inrix incorporates school traffic, event traffic, and live traffic to generate trip lengths and live ETAs. This update adds recommended departure and travel times, personalized traffic alerts, and the ability to send out automatically-generated ETA texts and emails to contacts.
The premium version of the app now has the very timely gas price feature, which shows drivers where the cheapest nearby gas stations are from a list of 100,000 stations across the U.S. This type of application has become very popular in recent years, and a search for "Cheap Gas" on Google Play yields some impressive results: GasBuddy and YP Local Search with Gas Prices, each with over 50 million installs, Waze Social GPS and Gas with 10 million, and GasGuru with as many as 50 thousand installs.
The premium version of INRIX Traffic is a one-time fee of $24.99 for a lifetime license.