Apple unveils iPad mini, pre-orders start October 26, sales November 2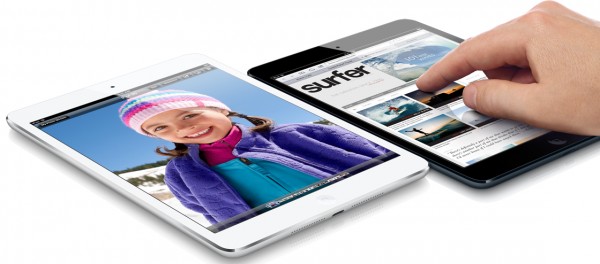 Months of rumors have come to this: Yes, Virginia, there is a smaller iPad, and if they don't sell out, you could get one for Christmas. During a special media event today, Apple unveiled iPad mini.
The new tablet's screen measures 7.9 inches, compared to 9.7 inches for fourth-generation iPad, also announced today. Screen resolution is 1,024 by 768 -- the same as iPad 2 and other tablets in the size class. The device weighs .68 pounds and is 7.2mm thick, or about one-quarter more than fourth-generation iPad. Apple claims 10-hour battery life. The tablet runs an A5 dual-core processor and packs a 5-megapixel camera on the back and another camera, mainly for video recording on the front. Contrary to rumors, prices start at $329, not $249.
Apple's unveiling comes three days before Microsoft struts out Windows 8 and Surface tablets. Can you say slap in the face? Microsoft will get little coverage of its launches without some mention of Apple's device. iPad mini preorders start same day as Windows 8 debuts. It's a marketing coup, and nasty work at that.
Some analysts are convinced that, like original iPad, the mini will be category changing. "Just as Apple has dominated the market for 9.7-inch tablets with its iPad, iPad 2 and new iPad models, the company is poised to rule the market for 7.x-inch products, driving rapid growth of the segment in 2012 and 2013", Rhoda Alexander, IHS iSuppli director, asserts.
The analyst firm sees the segment's share of tablets rising from 24 percent in 2011 to 28 percent this year and 33 percent next. "The battle in the 7-inch space is highly spirited, with most of the other leading vendors already offering price-competitive products in this size range", Alexander says. "IHS predicts Apple will successfully position the smaller iPad as a device that will be attractive and easy to adopt for both new and returning customers. This will spur rapid sales growth and provide tough competition for other companies contending in this size range".
Other competitors chose lower selling prices, such as Amazon Kindle Fire HD or Google Nexus, which both sell for $199. The entry-level iPad mini, 16GB with WiFi, sells for $329. The 32GB model is $429. Cellular models add $130 to the price and will go one sale about two weeks after the WiFi models.
Pricing differences may not matter, as Alexander predicts supply shortages. "The major factor limiting shipments of the smaller iPad will not be demand, but a combination of production challenges and potential component supply issues", she says. "Reported production difficulties point to the likelihood that Apple is once again pushing design boundaries with the new product. Sources also indicate there have been some supply issues for parts used in the Apple Lightning connector and in the display. If Apple can resolve these issues rapidly, 2013 shipments and sales may exceed the current forecast dramatically".
Today's mini debut comes just two weeks after Apple sold its 100 millionth iPad, CEO Tim Cook revealed during the media event. Apple in part positions the smaller iPad for the education market, which is surprising considering the company missed back-to-school buying season by many months. Of course, there is always next year, eh? Textbooks are major area of interest, with Cook claiming 2,500 US schools using iBooks textbooks.
Cook claims that nearly every Fortune 500 is deploying iPad, which I find unbelievable. More likely, a large number are merely supporting devices employees bring to work -- a common trend that transcends iPad. But today, with complete refresh and smaller iPad, Apple is sure to further capitalize on the bring your own device to work movement, if nothing else.
Speaking of refresh, Apple did not change larger iPad's screen size or price, but did boost features, claiming -- and testing will tell -- 2 times performance overall and for graphics compared to third-generation iPad.
Contrary to rumors, Apple will not retire iPad 2, which stays in the lineup at $399.