Another Apple event, another sarcastic liveblog! [iPad + Macbook + Crooooow!]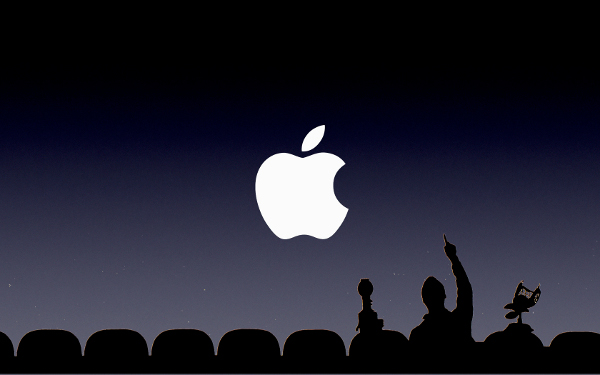 When Apple debuted the iPhone 5 just over one month ago, I was assigned to cover the launch event in a liveblog, despite the fact that I wasn't actually present at the event. So I did the liveblog the only way I saw fit: in the style of Mystery Science Theater 3000.
So here we are again, there is another Apple event today in San Jose, where the company is expected to unveil a couple of new products including the smaller, cheaper 7-inch iPad, and a new Macbook with a high-resolution Retina display. The event will begin at 10am Pacific, or 1PM EST, and I'll be providing a live, unscripted sarcasm track starting approximately an hour before the event begins. Unlike the iPhone 5 launch event, this one will be live streamed at Apple Events.
Because this is BetaNews, and we want to expose you to as much advertising and annoyance as possible, you have to refresh the page to get the latest updates.
2:35pm EST--And again, there's no mention of Bing anywhere.
2:15pm EST-- And that's it. Wrap up: 13" Macbook Pro has a new screen. iMac is skinnier. Mac Mini Server exists and was worth 45 seconds of your attention. iPad 4 has a better processor and cellular connectivity. iPad Mini is a Mini iPad and is superior to the Nexus 7 because I said so.
2:12pm EST-- Tim Cook would like to thank all of the teams at Apple that worked SO hard to take their entire product line and slightly change the size of the cases.
2:10pm EST--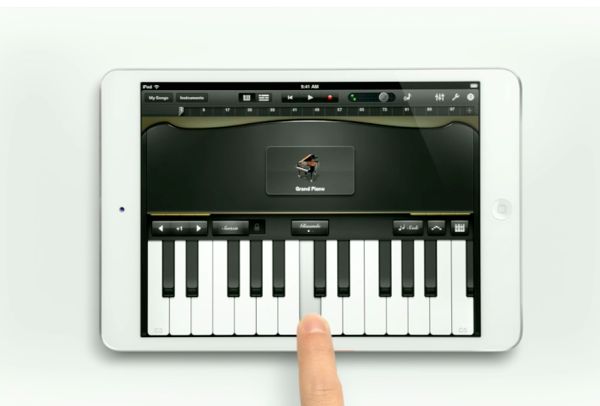 2:08pm EST-- Base configuration of iPad Mini is 16GB of memory, wi-fi only, $329...the Wi-Fi/Cellular model with 64 GB costs $659. Pre-orders begin on Friday. October 26. Also known as Windows 8 Day.
2:03pm EST--This is now the second time an Apple executive has said "You can use it with one hand!" This is important because of reasons. Internet reasons.
1:59pm EST--Schiller just singled out the Asus/Google Nexus 7 in a side-by-side comparison with iPad Mini. Nexus 7 owners quietly swell with pride as Apple reveals who opened up the market to them.
1:55pm EST-- iPad Mini has the exact same resolution as the iPad...and it can run all the same apps...yet it's obviously completely different because it's 1.8 inches smaller across.
1:52pm EST--One guy stood up to take a picture of the picture of the iPad Mini with his iPad.
1:48pm EST--Fourth Generation iPad has faster A6X processor, faster wireless, and it's an incremental upgrade that was literally used as the curtain in front of the iPad Mini.
1:44pm EST--Tim Cook is a graduate of the Mister Rogers school of diction. He flips it on when talking about education.
1:32pm EST-- New iMac includes a new type of storage called "fusion." It dynamically moves most-used apps to flash storage and less-used to HDD. It is the follow up to fission storage, which was developed at Apple's Bikini Atoll research facility.
1:25pm EST-- And here's the new iMac...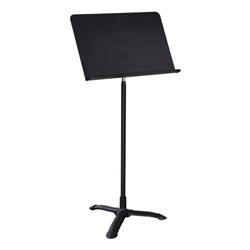 1:23pm EST--This Macbook Pro has an EPEAT Gold rating, which means the guys from iFixit won't have to use a blowtorch to cut it open for repairs.
1:17pm EST-- New 13.3" Macbook Pro is 20% thinner, one pound lighter ("Lightest Macbook Pro ever!") 2 Thunderbolt ports, usb3, HDMI, SD card slot, Retina Display (2560 x 1600) with 29% higher contrast ratio, 75% reduction in glare, 178 degree viewing angle. It's an AMAZING screen, which Apple doesn't make.
1:16pm EST--13" Macbook Pro is Apple's best-selling Mac, so they're going to make it obsolete.
1:13pm EST--New version of iBooks contains continuous scrolling in addition to pagination. The advantage to this is in pranking people. You can walk up to someone reading an iBook and fling the book 200 pages ahead in one bad-ass swipe.
1:10pm EST--160 million Game Center users. That means there are 40 million people with iDevices NOT playing iBridge with their grandparents.
1:07pm EST--200 million devices are iOS 6 right now. "Fastest software upgrade rate in history...that we're aware of."
1:04pm EST--"Amazing" count is at six.
1:01pm EST-- Tim Cook: More than 5 million iPhone 5s sold in the first weekend, it's the most iPhones ever sold... Here's a video of us selling iPhones!
12:57pm EST--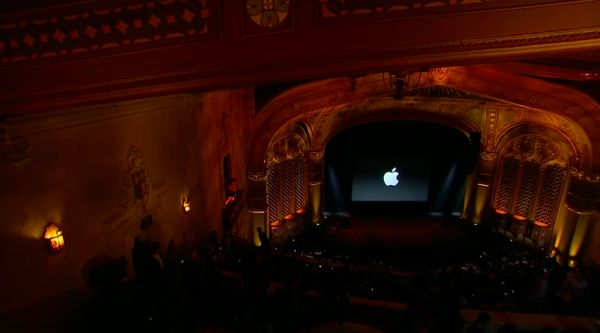 Nothing says technological innovation like a movie theater from 1927.
12:38pm EST--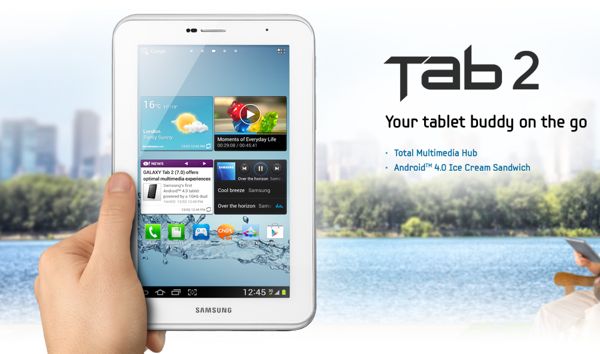 Samsung Galaxy Tab 2: "Your Tablet Buddy on the Go" Eventually, Samsung hopes to work its way up to being your tablet bro.
12:32pm EST--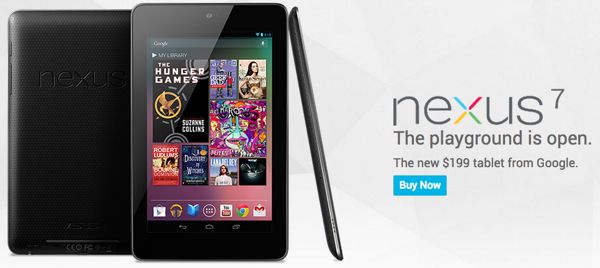 Google/Asus Nexus 7: "The Playground is Open" Isn't the maker of unmarked white vans upset that Google stole their slogan?
12:23pm EST--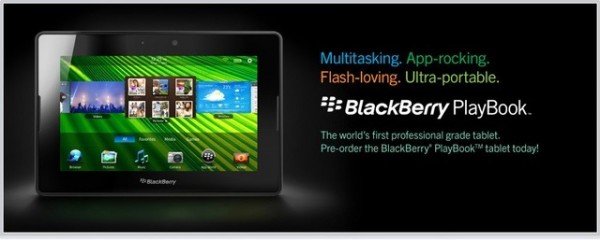 BlackBerry PlayBook: "The World's First Professional Grade Tablet." (For professions that don't need a way to check their email.)
12:18PM EST--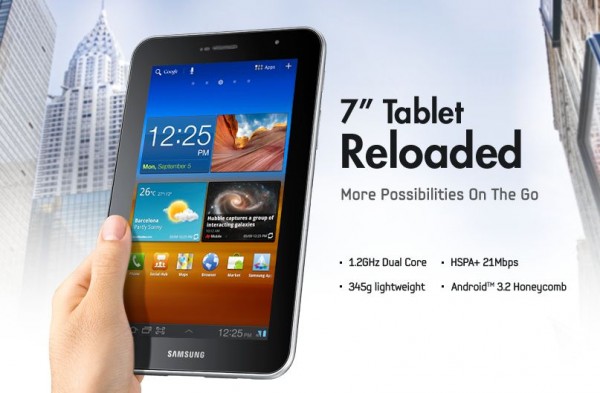 Galaxy Tab 7.0 Plus: "7" Tablet, Reloaded" ...Unfortunately, it was reloaded with Honeycomb. Could also be replaced with slogan: 7" Tablet, Endlessly Reloading.
12:13PM EST--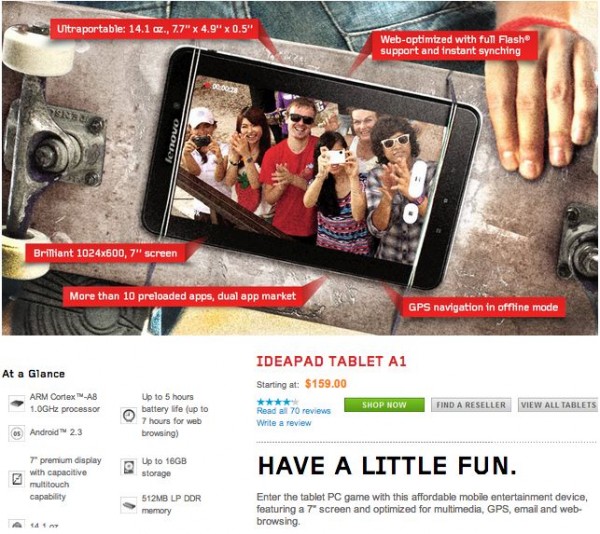 Lenovo IdeaPad A1: "Have a Little Fun" ...We can't promise you a moderate amount of fun, so you will have to settle for a little.
12:07PM EST--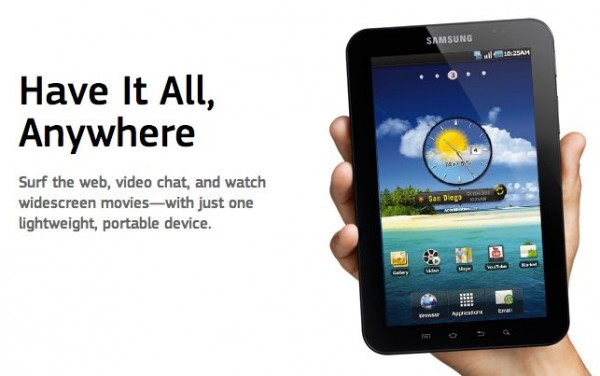 "Galaxy Tab: Have it all, Anywhere." (...Anywhere except countries where we're banned for copying Apple.)
12:03PM EST--


"HTC Flyer: A Tablet Like No Other." This is actually a pretty accurate slogan, given that this device launched before there was a real 7" tablet "craze."
12:00PM EST-- Since the main attraction of today's event is expected to be a 7" iPad, I've been wondering what silly post-colon slogan Apple will add (iPad Baby: think diffwent.) All the popular 7" tablets up to this point have had pretty lame slogans. Let's have a look...