Live from Windows 8 and Surface launch in New York City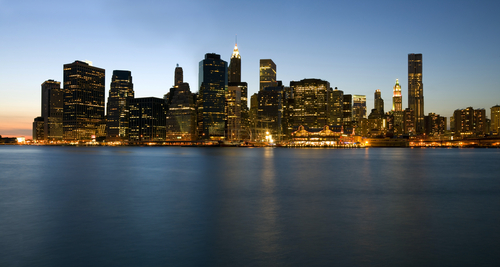 Windows 8, RT, and Surface launch at midnight. A scant fourteen hours before the new generation of operating systems becomes available to the general public, Microsoft is hosting a celebration at New York City's historic Pier 57. Your faithful skeptic Tim Conneally will be present at the event, liveblogging and keeping an eye out for any heretofore unseen news.
The event begins at 10am EST and lasts until 3pm EST. Check back here throughout the day for updates on Windows 8!
12:12pm EST--Ballmer closed with "Welcome to the world of Windows 8," and without any music or fanfare, quietly left the stage. This event didn't really reveal anything we didn't already know or presume to know: Apps, hardware, and the overall experience of Windows 8.
12:11pm EST-- "Windows Reimagined..." There's a screen of all the OEM partners. Dell, Acer, Samsung, Asus, Toshiba, Lenovo, HP, Sony, and in the lower right hand corner...MICROSOFT!
12:09pm EST-- Windows Phone 8 comes on Monday.
12:09pm EST-- Ballmer touched lightly on the enterprise world and Windows 8, he promised updates to everything soon.
12:06pm EST-- Microsoft has gone "All in" with its app strategy, Ballmer says. This includes Office, Bing and Bing Apps (news, finance, travel, maps, weather, sports), Internet Explorer, MSN, Outlook.com, SkyDrive, Skype, Xbox Music and Xbox Games. Ballmer highlighted the total redesign of MSN specifically for Windows 8. "It's the first website, I'd say, designed to take advantage of touch capabilities of IE10.."
12:01pm EST--"Are these new designs PCs? Yes. Are these new designs tablets also? Yes."
12:00pm EST-- "Windows 8 PCs are the best PCs ever...For the first time, Windows has first-rate tablets in addition to desktops and notebooks. For the first time, some of them are powered by ARM chips from Qualcomm and Nvidia...some are powered by x86 chips from Intel and AMD...There's an advancement that really pushes the boundaries of what a PC is, and that is touch."
11:56am EST-- Steve Ballmer casually takes the stage and says "Yeah, I'm excited," in a very subdued, and actually very believable fashion. He appears extremely confident without too much of the false bravado we see at product launches. He clearly believes in Windows 8.
11:54am EST-- More hardware...Surface has been mentioned for the first time. The same guy who whooped before just gave what I believe was a "yee-haw." The Microsoft employees in front of me were visibly pleased.
11:52am EST-- Now looking at some of the best apps in the app store: Wikipedia, UrbanSpoon, Hulu, Netflix, and so forth. Angiulo: "These apps form the basis of the Windows 8 experience, and they also run on Windows RT."
11:47am EST-- They're running through a bunch of the devices to show how the Windows 8 experience scales across different designs: The Lenovo tablet with stylus, the Dell XPS all-in-one with the 27" screen, the 19" Sony all-in-one. The absolute baseline for a new Windows 8 PC is $499, Angiulo said.
11:45am EST-- Windows 7 launched exactly three years ago today. It feels like a long time ago, but it doesn't feel like I've been using Windows 7 very long. You guys agree? It's weird like that.
11:38am EST-- Julie Green and Mike Angiulo are going through the Windows 8 interface: IE10, Xbox Music/Video, and so forth, on Windows 7 machines that have been upgraded to Windows 8. There were some awkward whoops coming from the audience when Angiulo said the OS upgrade resulted in a 30 percent speed boost. The whooper was not me.
11:36am EST-- Windows RT: As we all know, it has No Windows 7 apps, and only apps that are available in the Windows Store. However, it works with over 420 million existing peripherals (mouse, keyboard, printer, cameras, drives, etc.) That right there is your sales pitch for Windows RT.
11:34am EST--Today is the grand opening of the Windows Store for Windows 8 apps in 231 markets in 109 languages today. The number of markets is important to the overall strategy of Windows 8, which is "Computing for the next billion people."
11:30am EST-- Windows 8 is launching with 1,000 certified devices (ultrabooks, tablets, and convertibles.)
11:27am EST-- 1 million Windows 8 Consumer Previews were downloaded in a single day, today on Launch day, Sinofsky says there have been 16 million installations of pre-release builds. (Amounting to a total of 1.24 billion hours of testing!)
11:17am EST-- The show has started with a video of Windows events in China and India. Because I am an imbecile, I didn't bring my own mobile connection, and I'm on the super slow event Wi-Fi, pictures just cannot happen yet.
11:04am EST-- The show should get started in about 10 minutes.
10:56am EST-- Tim is present and accounted for. After wading through a sea of people and overhearing plenty of "sh*t the tech industry says," we're in front of the keynote stage which will be starting shortly.
Photo: Ben Bryant/Shutterstock