Box cloud storage is app available in the Windows 8 Store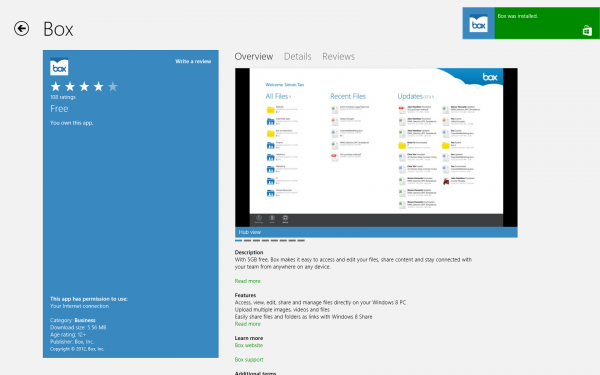 Windows 8 launches today across the globe, but still with a limited selection of programs compatible with the new user interface. Box is now among the first popular cloud storage services to offer an application through Windows Store, ahead of similar services like Dropbox or Google Drive.
The Box app is available as a free download and offers access to the cloud storage service straight from the new interface. Uploaded files can be accessed, viewed, edited and shared using the app and, just like signing up from the browser, offers 5GB of free storage. It takes advantage of the included "Share" function from the Charms menu to upload locally stored files or share the ones already in the cloud with other apps such as Mail or People.
The Box app also allows users to search the account and retrieves file details for individual items, but also introduces pinch to zoom for a summary view. Like previously mentioned, Windows 8 apps can take advantage of files stored in the cloud which should come in handy when sending emails or wanting to share a photo with Facebook friends from the People app.
Folders can be created, and Box allows users to upload multiple files as once, move and copy items, rename and download items. Like with other services, files can be opened and edited; the changes will be saved after in the cloud.
Collaborations can be added (even from the People app) and assign permissions individually. For Windows 8 apps that support Box, links can be shared. SSO login support and a passcode lock are implemented for security concerns.
For HP Windows 8 devices Box throws in 25GB of storage plus Box Sync (only for a limited period of time), while when signing up from the Samsung ATIV Tab users will get a 50GB account.