Microsoft slips, offers $15 Windows 8 Pro promotional price to anyone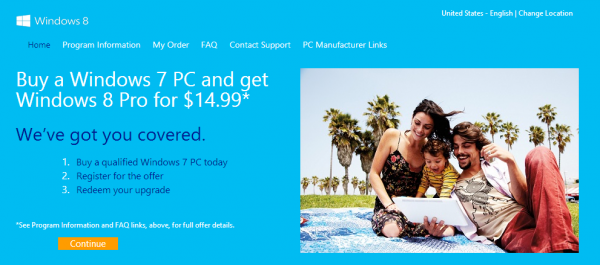 In early summer, Microsoft started offering a promotional price on Windows 8 Pro to anyone buying a PC running version 7. But there's a slip up. The $14.99 price is available to anyone willing to take advantage of the company. Several users have already tested this, ah, workaround and verified that it works. But don't expect the loophole to be open for long. However, Microsoft hasn't closed it yet, which I just verified for myself.
To get started, head over to the Windows Upgrade Offer website and click the "Continue" button to begin the rather quick process.  It's the next step where things get a bit messy for the ethically-minded. You will have to be a bit sneaky here and lie to Microsoft. The company wants to know when you purchased that Windows 7 computer you are looking to upgrade and it better have been after June 2nd. But there's no real verification that you did. Microsoft leaves open a gap for the user to fill in. Simply tell Microsoft when and where you purchased your computer. You will also need to agree to a standard terms of use, but be careful you don't agree to the Microsoft newsletter, unless of course you want it.
Next you will need to wait on a confirmation email from Microsoft. Mine came within a couple of minutes. From there, you can proceed to use the link included in the message to make your $14.99 purchase of the brand new operating system.
It's then a simple matter of clicking the link, entering your information and downloading and installing your very own Windows 8 Pro on the computer of your choice. Yes, it really is that easy. Thank you, Microsoft!
Regardless if the hack works for you or not, or if Microsoft slams the door shut on this one, you can still grab a copy of the new operating system for a discounted price. The OS is currently being offered for a starting price of $39.99 USD for Windows 8 Pro upgrades. The company is also stating that they have already sold 4 million copies, meaning the OS is well on it's way to being a success, despite the many nay-sayers.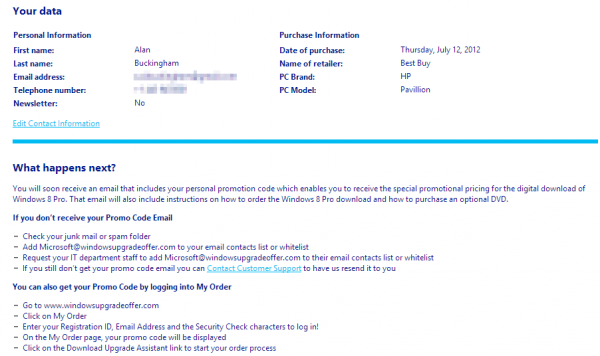 Disclaimer: I don't own an HP PC and I have never purchased a computer from Best Buy. I carried this out as a test for the good of the tech community, although I will happily use my new OS.