Answers launches exclusive Windows 8 app: This is more important than you may think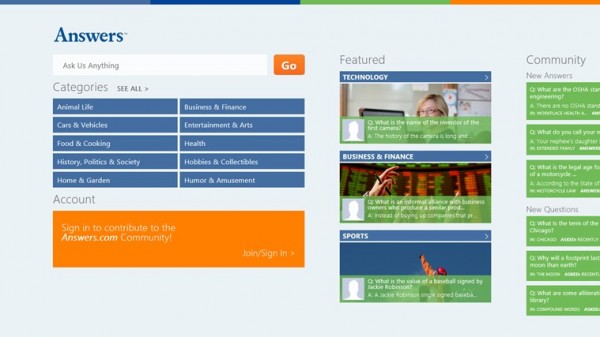 Thursday, question and answer site Answers launched its new Windows 8 application in the Windows Store.
The application is designed in the Windows 8 style, gives users the basic functionality of asking, answering and editing questions, as well as exploring over 8,000 categories and browsing featured content based on interests. The app utilizes the Windows 8 system-wide search functionality, and users can pin Q&A categories as live tiles on the start screen.
The important part about this app, however, really isn't the functionality it offers users right now. It shows the major opportunity that the Windows 8 store presents sites and services that may have not gotten a strong start in previous mobile app stores.
Checking the iTunes App Store, Amazon App store, and Google Play, Answers apps do not turn up in searches. In Google Play, for example, Answers competitor Ask.com shows up as the first result in an Answers.com query.
By being an early entrant in the Windows Store, Answers is giving itself a good footing in front of an immense new audience that could be in the tens of millions by next year.
The Windows Store is a second chance at an app store breakthrough.